Why candidate photo ops go wrong — for Ryan and others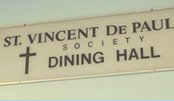 ---
St. Vincent de Paul Press Conference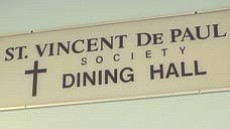 Video
Brian J. Antal, president of the local St. Vincent de Paul Society, discusses the society's position on political visits.
and Ashley Luthern
YOUNGSTOWN
Photo ops for politicians are as old as well ... cameras.
With the frantic sound of media photographers and journalists moving through tight spaces like a herd of cattle, a political candidate's photo op is usually fleeting and either reinforces a message or provides fodder for pundits and the opposition.
Republican vice-presidential nominee Paul Ryan created a stir and national attention after he and his family dropped by the St. Vincent DePaul Society Dining Hall on Saturday.
The visit came after his town-hall meeting at Youngstown State University.
Brian J. Antal, president of Mahoning County's St. Vincent DePaul Society, contacted The Vindicator and The Washington Post on Monday telling them he was "shocked" and "angry" that Ryan used the soup kitchen for a "publicity stunt."
The society is nonpartisan, and Antal said that during election season, he wouldn't permit any elected official inside the hall for a political "photo op."
Antal is a registered Democrat, but said this issue has nothing to do with politics.
If he is elected vice president, Ryan would be welcomed to volunteer at the dining hall as long as it's not during a campaign and without turning it into a media event, Antal said.
"I didn't want to make this a negative on the guy," Antal said of Ryan. "I'm not here to blast anybody. We have no [political] affiliation with anyone."
Juanita Sherba, St. Vincent's Saturday coordinator for the dining hall, gave the Ryan campaign permission to have the candidate and his family come to the downtown location.
She said it was a mistake.
The event was staged by the campaign, including having volunteers not clean a few pots and pans so Ryan and his family could be photographed doing that work, Sherba said.
"It was the phoniest piece of baloney I've ever been associated with," said Sherba, a supporter of President Barack Obama, a Democrat, who said political affiliation had nothing to do with the issue.
The biggest political photo-op disasters are usually the fault of staff members, said David All, a Washington, D.C.-based communication strategist, who worked on the Ohio political campaigns of former President George W. Bush and retired U.S. Sen. George V. Voinovich.
All has ties to the Mahoning Valley as he was the 2002 campaign manager for Ann Womer Benjamin, who lost the 17th Congressional District race that year to Tim Ryan.
"Staff members want control and to make an event perfect," All said. "They are really tightly wound. They lose their head and it ends up being a disaster."
A good photo op is "more about communicating rather than creating a fictitious event. If it doesn't work, let the politicians roll with it," he said. "Sometimes they're great moments because they're out of the ordinary."
William Binning, professor emeritus of political science at Youngstown State University, said a successful photo op is one with a backdrop that supports a candidate's message.
"What we found in the Valley over the years is candidates of both parties come in, and if they were criticizing the other side, they would try to find an empty steel mill," he said. "If they were promoting high tech, the [Youngstown Business] incubator was probably the most well-known photo op."
This wasn't the first time the Valley has been the location of a breakdown in communication that caused some embarrassment and unwanted national media attention for high-profile politicians.
In July, The Vindicator reported that the Poland man who introduced Obama at a rally at Dobbins Elementary School was found by a judge to have improperly taken "trade secrets" from a previous employer and owes $515,218 to that company.
In 2004, Bush, a Republican, and Democrat John Kerry, who lost that year's presidential election, each had embarrassing moments in the area.
Bush had an invitation-only event at YSU on May 25, 2004, to discuss the importance of community health care centers, and how "junk and frivolous" malpractice lawsuits were driving doctors out of business.
Sharing the stage with the president was Dr. Compton Girdharry of Alliance. Bush said malpractice insurance forced the doctor out of his private practice.
But The New York Times reported a few weeks later that Girdharry had settled lawsuits and agreed to the payment of damages in malpractice suits in which patients suffered terrible injuries.
Not to be outdone, Kerry attracted national attention when The Vindicator wrote about his Canada goose-hunting trip in Springfield Township on Oct. 21, 2004, to show he was a sportsman.
Kerry pointed his loaded shotgun in the direction of a person nearby, and didn't wear safety glasses or ear plugs, standard items when hunting geese.
Kerry wouldn't carry any of the four geese killed in the hunt, making an off-the-cuff remark that "it was too heavy and I was too lazy."
Kerry's staff gave incorrect information about the gun he used and the name of the hunting dog.
The event came across as a staged event, which it was.
Mahoning County chairmen of both political parties agree that photo ops are a staple of campaign culture, but drew drastically different conclusions about the impact of Ryan's soup kitchen photo op.
"A photo op is an opportunity for the media, and by extension voters, to visualize what a candidate" is about, said David Betras, the Democratic chairman.
For a photo op to be successful, it has to be sincere, and Ryan's was not, Betras said.
Republican Chairman Mark Munroe said photo ops have a long tradition because politicians have limited time and tight schedules.
Candidates "look for opportunities to interact with voters and present themselves in the best light. There's nothing wrong or unusual about that, but what's happened in Youngstown has been blown so far out of proportion," Munroe said.
He added, "It's fair to say that the lifetime of a photo-op story is typically pretty short."
More like this from vindy.com
October 17, 2012 12:10 a.m.