Published: Wed, October 17, 2012 @ 12:00 a.m.

Photo
Tiger Burger at Raptis Family Restaurant
When You Go...
Where:
Raptis Family Restaurant
1939 Niles-Cortland Road, Warren
Phone: 330-856-3237
Hours:
6 a.m. to 8:30 p.m. Monday through Saturday; closed Sunday.
Menu:
Seven burgers ($3.55-$6.85)
Rating:
4 1/2 stars
Website:
facebook.com/raptisfamilyrestaurant
Payment:
Cash only
Keep sending your great burger suggestions to mvbrb@hotmail.com, and "like" the Facebook page Burgerguyz so you can keep up with all the freshest burger news.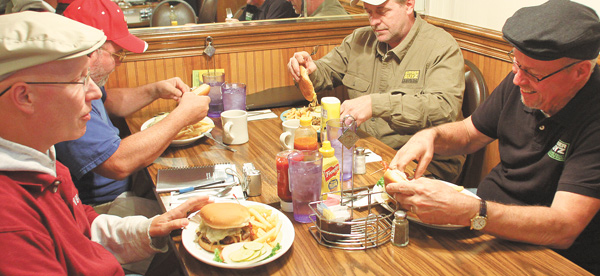 Photo
Burger guys from left: Anthony Fuda, John Spatar, Jerry Tranovich and Scott Long enjoy Tiger Burgers at Raptis in Howland.
By Anthony M. FUDA
Tigers, burgers and fries— Oh my!
Tigers, burgers, and fries — Oh my!
We've entered Tigertown — Howland Tigertown, to be exact.
We arrived at the mom-and-pop-operated Raptis Family Restaurant because of the tornado of requests from their Facebook fans.
Raptis has been a staple of the Howland area for 25 years, making sure to keep the business in the family. The owners are Foti and Mary Ann Raptis, along with their children, Elaina, George and Joann (who also work at the restaurant).
Our burger quest took us down the yellow brick road to Raptis, where Joann was ready to help us find a great- tasting burger, a great atmosphere and full stomachs. And, in fact, where Foti makes the fresh 8-ounce ground-beef patties daily by hand.
We hoped the wizard in the kitchen could give us what we needed before it was time to go.
There are plenty of burgers to choose from: Hamburger, Cheeseburger, Quarter Pounder, Bacon Cheeseburger, Mushroom Cheeseburger and the Tiger Burger (mushrooms, grilled onions and bacon).
For the non-beef eaters, there is a Lady Tiger (chicken breast, grilled onions, bacon and mushrooms), and a Cordon Bleu Burger (ham and Swiss cheese).
All of the burgers are garnished with lettuce, tomato, pickles and onions and come with a side of thick-cut fries.
Joann, along with the many other people who requested we try Raptis, suggested we try the Tiger Burger.
After very little consideration — even though the selection of burgers is good — we all went with the Tiger Burger. If that many people recommend a place and also recommend a specific burger, it must be good.
The only difference in our Tiger Burgers was the cheese. JT had American, Scott went with Swiss and Johnny and I opted for provolone.
The burgers arrived, and we were ready. We looked at the huge patty and the mountain of toppings, and wondered how we were going to eat it all (which, by the way, we did!).
The burgers had a good flavor — not over-seasoned at all — and were very juicy. The toppings were all crisp and fresh, and combined with the perfectly cooked fresh beef, made you crave the next bite even more.
The burgers were so juicy and there were so many toppings that the bun could not make it through the entire meal. The bun was fresh and soft, but was not up to the task of this plentiful burger.
Even so, this burger would have been just as good if we had to eat it with a fork.
My meal had that little bit of everything you want ... the blend of flavors with each mouthful that fill your burger desires. Even though you are full, you will still want that one more bite.
Johnny said, "Raptis reminds me of those cozy family diners of my younger days, and the burger was, in my opinion, a 'two wet-napper,' because the grilled onions, mushrooms and bacon with the melted provolone cheese and the juicy half-pound well-done burger made for a messy dining experience that I could repeat many times." He added, "This is a great burger at a great price."
JT summed up our evening by saying, "Now that's a tasty burger! I thought we would get a good burger here, but this goes way beyond that. Presentation, seasoning, toppings ... totally unexpected."
Our time at Raptis ended, and we didn't have to click our heels three times to know this was a great burger. And the wizard fulfilled our simple wants: a great atmosphere, delicious-tasting beef and bulging stomachs that said, "We are satisfied and enjoyed every last bite."
When you go, make sure to take cash, because this magical burger land does not take credit cards.