Soup kitchen visit by Ryan stirs anger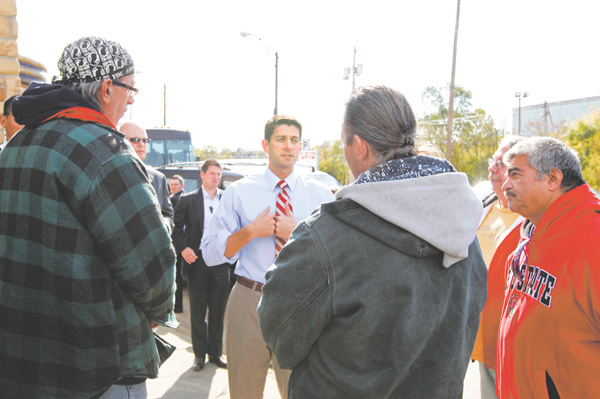 ---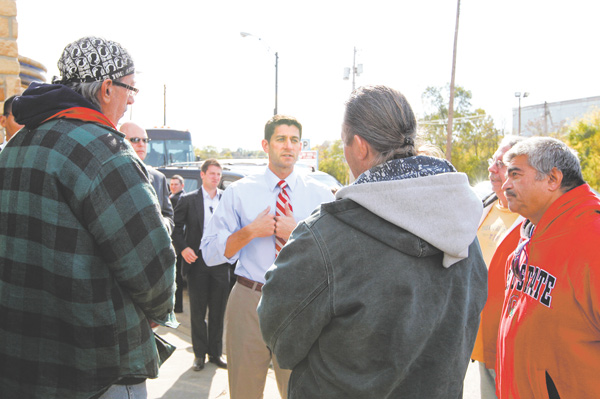 Photo
Paul Ryan, the Republican vice-presidential nominee, spoke to a group of men outside the St. Vincent de Paul Society's Dining Hall in Youngstown on Saturday. The head of the society said Ryan used the facility for a "publicity stunt."
St. Vincent de Paul Press Conference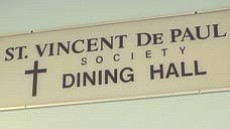 Video
Brian J. Antal, president of the local St. Vincent de Paul Society, discusses the society's position on political visits.
YOUNGSTOWN
The president of Mahoning County's St. Vincent de Paul Society is "shocked" and "angry" that Republican vice-presidential nominee Paul Ryan used the soup kitchen for a "publicity stunt."
Brian J. Antal, who runs the society, said the campaign "ramrodded themselves in there" without getting proper permission for the visit Saturday that followed Ryan's town-hall meeting at Youngstown State University.
"They said they got permission from the right people, but that would have been me, and I never would have given them permission," Antal said Monday.
Juanita Sherba, St. Vincent's Saturday coordinator for the dining hall, said she gave the Ryan campaign approval that day for the visit by the candidate and his family.
Sherba say she now realizes it wasn't her call to make.
The event "was a photo op," she said. "It was the phoniest piece of baloney I've ever been associated with. In hindsight, I would have never let him in the door."
When an advance person from the Mitt Romney/Ryan campaign asked about the visit, Sherba said it took her by surprise.
"I didn't know it was my place to say 'no,'" she said. "I made a mistake."
The event was completely staged by the campaign, she said.
"They couldn't have cared less," Sherba said. "The advance man said Paul Ryan wanted to come and talk to our clientele, but he didn't."
When asked for a comment, Christopher Maloney, spokesman for the Romney/Ryan campaign, said: "Our campaign and Congressman Ryan were pleased to bring attention to the meaningful charitable contributions St. Vincent de Paul Society makes to people in need."
One Romney/Ryan campaign aide, who declined to be identified for this story, said Sherba told a staffer that it would be fine for Ryan to come to the center, and that she was pleased by the request.
Also, the aide said Sherba expressed gratitude for the visit.
But Sherba tells a different story.
She said she was told Ryan would talk with the society's clientele, but he arrived so late that breakfast was over for quite some time.
Volunteers started to clean up, she said, when a Ryan campaign staff member asked them to leave some pots and pans unwashed so the VP nominee and his family could do something when he arrived.
"We just wanted to come by and say, 'Thanks,'" Ryan said to a few volunteers who stayed behind Saturday. "This is what makes society go."
Despite some media reports, Sherba said Ryan and his family washed a few dirty pots and pans, but it wasn't necessary.
"It was all about him coming in and doing dishes for publicity," Sherba said. "We had to save dishes. We would have gone home by the time he arrived. We didn't need him to do the dishes. It was getting late, and I said that we were closing in five minutes. I waited longer than that, and he finally arrived."
Antal said he's received several phone calls and emails from donors who are "not pleased" that Ryan used the soup kitchen as a photo op.
"I'd have the same problem if [Vice President] Joe Biden or [President] Barack Obama came down there," Antal said of the Democratic ticket.
But he did specifically criticize Ryan for wanting to eliminate the small amount of federal money the society gets for the dining hall.
"That is a little two-faced to say the least," he said. "I cannot have the appearance that we are endorsing the Republicans by letting them use our facility for photo ops and publicity stunts."
The society received $12,000 in federal money this year and raised about $175,000 to $200,000 in private donations for the dining hall, Antal said.
The nearby food pantry received $3,200 in federal aid this year and $75,000 in private donations, he said.
"If we can't get private donations, we're sunk," Antal said. "It's not a Democrat or Republican issue. It's a faith-based organization, and we're not here to get someone elected."
Antal said he doesn't blame volunteers for this.
The society's bylaws prohibit the endorsement of candidates and political parties, Antal said.
Now it also will include a policy prohibiting candidates from visiting its facilities, he said.
The dining hall is next door to The Vindicator's production facility and newsroom on Front Street in downtown Youngstown.
St. Vincent serves 98,000 meals to the poor annually with 200 to 250 people served lunch every weekday and about 150 served breakfast on Saturdays, Antal said. The hall is closed Sundays.
Also, those provided lunch are given bags with a sandwich or food wrap to eat at night, he said.
Those wanting to donate to the society can do so at P.O. Box 224, Youngstown, OH 44501 or at any First Place Bank.
More like this from vindy.com