Mayor: Youngstown owes county $225,360
Tweet
Published: Tue, October 16, 2012 @ 12:00 a.m.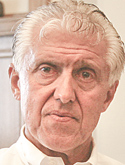 Photo
YOUNGSTOWN
The city administration will ask city council Wednesday to authorize a $225,360 payment to Mahoning County for housing inmates charged with violating Youngstown ordinances in 2011.
Also, the city already has paid $231,360 to the county for its inmates for the first seven months of this year, said city Law Director Anthony Farris.
"It's a considerable amount of money," he said.
But it is owed to the county, said Mayor Charles Sammarone.
"We owe the money," he said. "If we owe it and it's justified, we pay it. We're here to work together."
Officials with the city and county have had discussions since the end of last year on the 2011 payment.
As part of a 2007 consent decree to settle a federal class-action lawsuit by county jail inmates about overcrowding, the city agreed to pay $80 a day to the county for three years for each misdemeanor prisoner jailed beyond its 71st inmate. The city paid about $2 million over that three-year period, which expired in May 2010.
The county wanted to extend the deal, but the city refused, citing its financial issues.
But the sheriff's office asked the county prosecutor's office to research whether it could charge the city for those housed at the jail on charges of violating city ordinances, said Major Alki Santamas, who is in charge of jail operations.
The prosecutor's office found an attorney general's decision that said the sheriff's office could charge the city $80 a day to house those prisoners, he said.
"There was a debate on paying for 2011 because they didn't bill us" until the year ended, Farris said.
The city administration has agreed to pay the sheriff's office for 2,817 days of housing inmates charged with violating Youngstown ordinances in 2011. The proposal needs approval from city council, which will consider it at its Wednesday meeting.
Also, the board of control — consisting of Sammarone, Farris and Finance Director David Bozanich — needs to approve it.
City Prosecutor Dana Lantz said she expects the bill to drop to about $120,000 in 2013 with city police officers charging suspects with violating state laws rather than city ordinances if the charges are similar.
Sheriff Randall Wellington said he is please the city will pay the 2011 bill as the money will make up a "slight deficit" in his department. The city paid the bills for the first two months of this year a few months ago and the remaining five months' worth of bills Friday, Farris said.