Valley coaches give Obama, Romney pointers for Round 2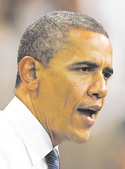 Photo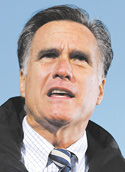 Photo
By Denise Dick
Youngstown
Going into the second presidential debate, President Obama should go on the offensive while Mitt Romney needs to provide more details about his plans, according to Mahoning Valley high school debate coaches.
"If you're looking at how things were said and the energy, a lot seem to think Romney won," said Eric Simione, head coach of the speech and debate team at Boardman High School. "If you look at substance and what was actually said, it seems like a whole list of incorrect things were said. There was flawed math. The average person probably thought Romney won from a style perspective. If you were listening to what was said, the president left too many things unchallenged."
Romney did a good job of presenting his arguments with "some real enthusiasm and excitement compared to many of his campaign speeches," Simione said. "He was energetic and forceful in what was presented, but a lot of questions were left unanswered."
A lot of questions many viewers were probably expecting didn't even come up, he said.
Jen Gonda, forensics director for Cardinal Mooney High School's debate team, thought Republican challenger Romney did well in the debate.
"I think that Romney did better, but the expectations were lower for him," she said. "Obama has a strong record as an orator; however he seemed less ready for Romney than expected."
Mike Bassett, Niles McKinley High School's speech and debate coach, agreed.
Romney "presented himself well. He wasn't hesitant. He looked better than President Obama looked and sounded," Bassett said.
The next debate from 9 to 10:30 p.m. Tuesday at Hofstra University in Hempstead, N.Y., will be a town hall format.
Citizens, chosen by the Gallup Organization from undecided voters, will ask domestic and foreign policy questions of the candidates.
That format may favor the president, some say.
"It should benefit Barack Obama and his style of speaking," Bassett said. "He seems more comfortable moving around, a little bit more at ease."
The coaches see room for improvement in each candidate.
"Romney needs to provide some empirical warrant as to how he hopes to achieve a balanced budget while maintaining tax cuts," Gonda said. "It sounds nice in theory, but so many Americans want to know how it could actually work. Obama needs to retreat back to his grand rhetoric of four years ago, the messages of hope and cooperation. Romney is slyly adopting the bipartisan rhetoric of the Democrats of four years ago. It is genius."
President Obama needs to be on the offense more, Bassett said, while Romney, the former governor of Massachusetts, needs to "clarify his points, bring new ideas and say how he's going to cut the deficit..."
Obama looked hesitant, he said.
"I don't know if he thought he had a good week in the polls and didn't need to convince people, if he was trying to maintain a balance and not come off as arrogant to the American people," Bassett said. "He looked hesitant and not as sure as he should have."
Simione agreed.
"Romney certainly controlled the evening in terms of keeping on the topics he wanted to address and what he wanted to focus on," he said.
Obama left a lot of the statistics spouted by Romney go unchallenged, Simione said.
In a debate, a contestant is supposed to immediately challenge information used by his opponent if it's incorrect, he said. A contestant can't assume that viewers will know the information is wrong.
"I felt both candidates debated based on where they were in the polls," Simione said. "Romney was behind in terms of the swing states and the electoral college, and he was like a basketball team late in the fourth quarter, and he was just throwing things up with half-court shots and hoping something goes on."
The president, on the other hand, was leading in the polls going in to the debate.
"It looked like he was trying to run out the clock,"Simione said. "I don't know that that was wise advice on the part of his advisers or handlers. It seemed like he was trying not to do anything too risky, and it let Romney back in the race. He had the chance to close things out and he made it a race again."
More like this from vindy.com
October 15, 2012 midnight