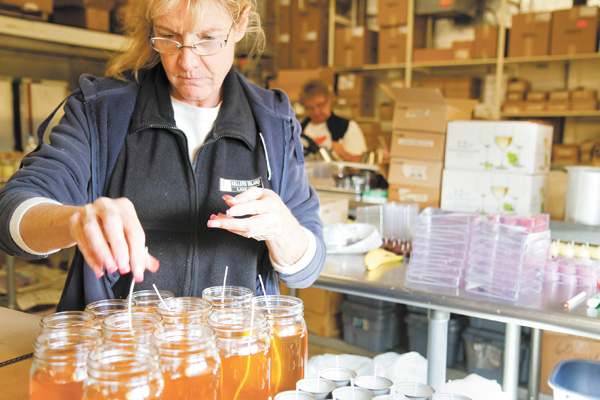 Photo
Victoria Bray places wicks in her homemade candles.
STORY & PHOTOS
BY MADELYN P. HASTINGS
NEW WATERFORD
Tucked away on state Route 7 in this tiny village you can find a little shop called St. Johnsbury Perfect Scent Candles and Gifts.
Todd and Victoria Bray have made a living by making and selling homemade candles for the past 20 years. They work together with a chemist to come up with a variety of fragrances for a unique kind of candle that will fill a room with accurate smells.
"It was important for us to make our candles smell as real as possible," Victoria explains. "Our root-beer candle smells exactly like an actual root beer. We simply sell fragrance. The scent lasts all the way to the bottom of the jar. We don't think there is any other candle that can compare."
They created the company in their garage in 1992 and recently moved to New Waterford. They will be selling their creations at the Christmas in the Woods craft show in Columbiana, booth No. 21, from 10 a.m. to 5 p.m. Saturday and Sunday.