President of St. Vincent De Paul Society blasts Ryan visit as 'publicity stunt'
St. Vincent de Paul Press Conference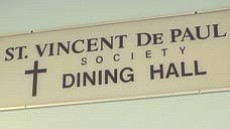 Video
Brian J. Antal, president of the local St. Vincent de Paul Society, discusses the society's position on political visits.
Read the full story: Soup kitchen visit by Ryan stirs anger
YOUNGSTOWN ­­— The president of Mahoning County's St. Vincent De Paul Society is "shocked" and "angry" that Republican vice-presidential nominee Paul Ryan used the soup kitchen for a "publicity stunt."
Brian J. Antal, who runs the society, said today the campaign "ramrodded themselves in there" without getting proper permission for the visit Saturday that followed Ryan's town-hall meeting at Youngstown State University.
Juanita Sherba, St. Vincent's Saturday coordinator for the dinning hall, said she gave the Ryan campaign approval that day for the visit by the candidate and his family.
Sherba say she now realizes it wasn't her call to make.
The event "was a photo op," she said. "It was the phoniest piece of baloney I've ever been associated with. In hindsight, I would have never let him in the door."
The event was completely staged by the campaign, she said.
When asked for a comment, Christopher Maloney, spokesman for the Romney/Ryan campaign, said: "Our campaign and Congressman Ryan were pleased to bring attention to the meaningful charitable contributions St. Vincent De Paul Society makes to people in need."
For the complete story, read Tuesday's Vindicator and Vindy.com