FINALLY! : Browns get their first win of season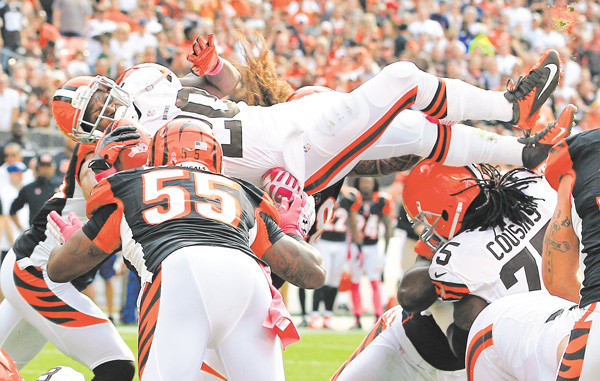 Photo
Cleveland Browns running back Montario Hardesty (20) leaps over Cincinnati defenders for a 1-yard touchdown in the fourth quarter of an NFL game Sunday at Cleveland Brown Stadium. The Browns defeated the Bengals, 34-24, to win their first game of the 2012 season and snap an 11-game losing skid.
Browns snap 11-game losing streak
Associated Press
CLEVELAND
Phil Dawson wasn't entirely convinced the Browns' agonizing losing streak had ended.
But once the longtime kicker stepped inside Cleveland's jubilant locker room there was no doubt. As players hugged in celebration, incoming owner Jimmy Haslam III beamed while shaking hands with many players who had never felt the joy of winning an NFL game. Dawson remembered the feeling.
Nearly one year later, the Browns had won again.
"It was fun to see guys jumping around and happy," said the 37-year-old Dawson, who has been with the Browns since 1999. "They never had that feeling before and it was great to see."
Rookie Brandon Weeden threw two touchdown passes on his 29th birthday, cornerback Joe Haden sparked Cleveland's defense with his return from a suspension, and the Browns, competitive but winless through five games, snapped an 11-game losing streak going back to last November by beating the Cincinnati Bengals 34-24 on Sunday.
Cleveland had not won since Nov. 20, matching a franchise record for consecutive losses. But for the first time this season everything fell into place for the Browns (1-5).
"A big weight was lifted off our shoulders," said Haden, who intercepted a pass by Dalton in third quarter to set up a field goal. "It felt like we won the Super Bowl. We just didn't give up."
Montario Hardesty, filling in for injured rookie Trent Richardson, scored on a 1-yard plunge and veteran cornerback Sheldon Brown intercepted Cincinnati's Andy Dalton and returned it 19 yards for a touchdown in the fourth quarter as the Browns outscored the Bengals (3-3) in the second half 27-10.
It was the first win in nine tries against an AFC North opponent for second-year Browns coach Pat Shurmur. The victory also closed Randy Lerner's tenure as Cleveland's majority owner. His sale to Haslam for $1 billion is expected to be approved by the league's owners on Tuesday.
The Browns hadn't been able to put together a complete game under Shurmur. There were still some major flaws, but one of the NFL's youngest teams did some growing up and took some of the pressure off Shurmur, who needed a win to impress Haslam, the truck-stop magnate and a former minority owner of the Pittsburgh Steelers.
With the Browns leading 27-17 after Weeden's 3-yard TD pass to Benjamin Watson, Brown stepped in front of Brandon Tate and felt the ball thud into this stomach. He ran it all the way back as Cleveland fans, whose patience has been pushed to the limit with years of losing, rocked Browns Stadium as it hadn't been in years.
"We got our stadium back today," Hardesty said. "It was great. The crowd was going crazy. Now we have to build on that feeling."
The loss was the Bengals' fourth in the last 17 games against the Browns.
"We have got to play better," Bengals coach Marvin Lewis said. "We've got to fix it. Obviously we are not playing consistently enough for the ability of the guys that we have. We're almost too nice at times and we've got to have more of a killer instinct."
Dalton finished 31 of 46 for 381 yards with three TDs — two to Green — and three interceptions.
One of the picks was by Haden, who returned after serving a four-game suspension for violating the league's policy on performance enhancers. Haden had seven tackles and made two big third-down plays.
Weeden went 17 of 29 for 231 yards and found rookie Josh Gordon for a 71-yard TD in the second quarter, who hauled in Weeden's pass with one hand before scoring his third TD in two games.
Hardesty's 1-yard TD dive on the first play of the fourth quarter gave the Browns, who trailed 14-7 at halftime, their first lead at 20-14.