Cruising into the past: Model A Fords tour splendor of Mill Creek Park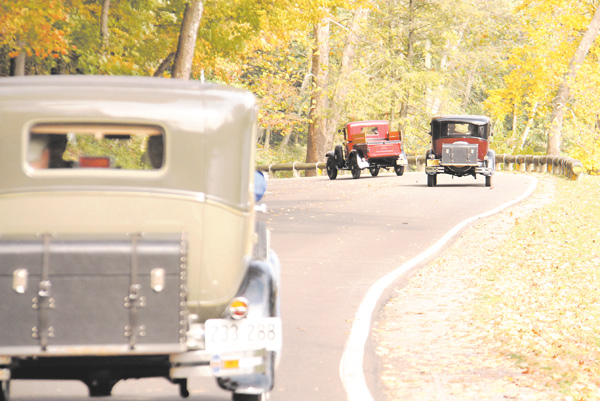 Photo
These Model A Fords wind their way through Mill Creek Park as part of the Penn-Ohio Model A Ford Club's fall foliage tour through the park.
By ELISE McKEOWN SKOLNICK
YOUNGSTOWN
As Model A Fords traveled the roads and filled the parking lot of Fellows Riverside Gardens, Mill Creek Park seemed to return to a bygone era.
The owners of about 55 of the cars showed up at the park Sunday for the Penn-Ohio Model A Ford Club's annual banquet. A group of about 20 toured the park.
The cars are fun to drive, said Don Harvey of Waterford, Pa. Driving them, he said, takes him back to a time before cars were as mechanized.
Model A's have standard transmissions.
"Automatics weren't invented yet, power steering wasn't invented yet," he added.
Harvey's "traveling car" is a 1929 Model A Ford that he's owned for 26 years. He also owns a Roadster and previously owned a 1929 pickup truck.
He's been a member of the club's Erie chapter for 24 years.
The Penn-Ohio club consists of 12 chapters. Each has monthly meetings for members. The chapters take turns hosting the whole club.
The Mahoning Valley chapter, Five Points, hosted Sunday's gathering.
It was a great day for the tour, noted Don Urchek, president of the Five Points chapter.
Urchek, of Bazetta, owns a 1929 Roadster.
"I had my first date with my first wife in that car," he said. "And I still have the first wife and the car. We've been married for 48 years. And we dated for almost six years before, so I've had that car a long time. And we drive it all over."
Urchek and his wife, Martha, have been members of the club since 2000.
It's thrilling to own the car, he said. The couple has made a lot of good friends in the club.
Urchek also enjoys working on the car. He completely rebuilt it 12 years ago.
Most Model A owners will not drive their cars during the winter. The annual banquet marks the end of the driving season. The event included the presentation of attendance awards and recognizing members for length of membership in the organization. Members receive pins for every five years they belong to the club.
The Penn-Ohio Model A Club is a social and driving club for Model A owners and admirers. Membership is open to anyone with the interest in owning, preserving and driving the Model A Ford.