HAPPY 100TH BIRTHDAY Lee Roy Nelson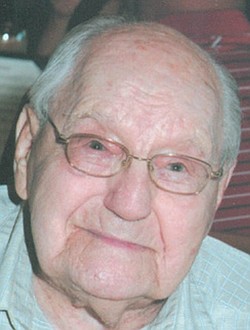 Photo
Date of birth: Sept. 28, 1912, in Bullskin Township, Pa.
Residence: Youngstown.
Parents: Lawrence Percy Nelson Sr. and Goldie Koontz Nelson.
Siblings: Ralph Nelson and Lawrence Percy Nelson Jr., both deceased.
Children: Wilodene Kamerer of Sidney, Ohio; Sandra (Richard) Bee of Canfield; and William Leroy, stillborn.
Grandchildren: Jennifer (Jacob) Studebaker of Piqua, Ohio.
Employment: Youngstown Sheet & Tube, Campbell, Brier Hill Research Center, and maintenance supervisor at Youngstown State University.
Memberships: Good Hope Lutheran Church, Boardman.
Additional information: His family hosted a catered buffet Sept. 29 in the church fellowship hall and served a brunch between the church services Sept. 30. Mr. Nelson enjoys spending time with family, making coffee for church services, watching games shows and Cleveland Indians baseball games on TV, cruise vacations and fishing.