Both parties 'messed' up, Ryan tells Youngstown crowd
Skolnick talks to MSNBC

Video
The Vindicator's David Skolnick was on MSNBC Saturday, Oct. 13, to discuss his views on this year's presidential campaign in Ohio.
St. Vincent de Paul Press Conference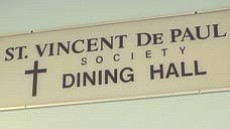 Video
Brian J. Antal, president of the local St. Vincent de Paul Society, discusses the society's position on political visits.
By DAVID SKOLNICK
skolnick@vindy.com
YOUNGSTOWN
U.S. Rep. Paul Ryan, the Republican nominee for vice president, aggressively criticized Democratic President Barack Obama, saying he's "never seen a president so partisan as this one."
Ryan told a crowd Saturday at Youngstown State University that he and Mitt Romney, the GOP's presidential nominee, will fix the problems of job loss, dependency on foreign aid and oil — making "North America" energy independent "by the end of this decade" — and health care, if elected.
Ryan, who lives in Janesville, Wis., said Youngstown reminds him of his hometown.
"We come from similar areas," he said. "Please know we want to get these manufacturing jobs back here. We want to make sure that this is a country and a society where we are the envy of the world, where we're No. 1 in manufacturing again, not second to China, like we are right now."
Since Obama took office, about 600,000 manufacturing jobs have been lost, Ryan said.
That's true, but according to the U.S. Bureau of Labor Statistics, 1.38 million were lost in 2009, Obama's first year as president. Since then, the manufacturing sector has seen growth every year, with a net loss over those three-plus years of about 600,000, according to labor statistics. Also, those years were the first since 1997 in which the nation increased manufacturing jobs.
Ryan spoke Saturday for about 17 minutes to the crowd of about 1,400 in YSU's Kilcawley Center — including an overflow room of 200 who watched him on a giant-screen TV — and then answered six questions during a 42-minute town hall.
Under Obama, the nation is "heading in the wrong direction," and "this president isn't doing anything about it," Ryan said.
Ryan said Democrats and Republicans in Washington created the increased national debt.
"Both political parties messed" up the budget, he said, repeating a phrase he used on CNN in May 2011.
Ryan campaigned in the heart of one of the most Democratic areas of Ohio, a key battleground state. Obama won Mahoning and Trumbull counties in 2008 over Republican John McCain by 20 percentage points.
But Republicans have not shied away from coming to the area recently. On Tuesday, New Jersey Gov. Chris Christie, a prominent Romney surrogate, campaigned in Lordstown.
In a written response, Danny Kanner, an Obama campaign spokesman, said: "A PowerPoint can't hide the simple truth: all Romney and Ryan are offering is the same failed policies that led to the crisis and punished middle-class families in the first place."
Ryan used PowerPoint graphs and charts Saturday at YSU.
Before Ryan spoke in Kilcawley Center's Chestnut Room, he stopped at the overflow room, near the building's food court, and spoke for about two minutes.
"Unfortunately, the room got full," he said. "That's a good problem to have."
Ryan added: "Mitt and I are offering solutions;we're offering ideas how to fix problems."
As for Obama and Vice President Joe Biden, Ryan said, "They're offering distortions. They're offering blame. They're offering four more years of the same. We're not going to fall for that."
Ryan also sharply criticized Obama for not labeling China as a "currency manipulator."
"We are going to stop this kind of cheating," Ryan said. "If people are manipulating our currency, we are going to say that they are manipulating our currency."
On behalf of Obama's campaign, Kanner responded: "Congressman Ryan's tough rhetoric can't hide the fact that Mitt Romney will never crack down on China's cheating. Just look at his record. When President Obama stood up to China [in 2009] on behalf of American tire workers, Romney called it 'decidedly bad for the nation'" in his book, "No Apology."
Stronger reaction to Ryan's remarks came from U.S. Rep. Tim Ryan [no relation] of Niles.
After the event, Tim Ryan said he was "stunned" to hear the other Ryan criticize the president for not labeling China as a currency manipulator. Paul Ryan was among only 79 House members who voted against his [Tim Ryan's] Chinese currency bill in 2010, the 17th District Democrat said.
"What won't these guys say to try to get elected?" Tim Ryan asked. "Paul Ryan had his chance to stand up to China, and he caved to the corporate interest. Now he wants us to believe he cares about this issue. Give me a break."
Earlier, during Paul Ryan's appearance, he joked with the Youngstown audience about sharing a surname with his Democratic colleague.
"I get a lot of mail from you by the way," he said, referring to the common mix-up of his mail with Tim Ryan's.
"It happens to us all the time," he said to laughter.
But Tim Ryan wasn't laughing.
After the YSU event, Paul Ryan and his family visited the St. Vincent De Paul Society Dining Hall, next door to The Vindicator, to serve food to the poor. But breakfast time had passed, so instead, they washed dishes.
"We just wanted to come by and say, 'Thanks,'" Ryan said to a few volunteers. "This is what makes society go."
Ryan and his family arrived by airplane late Friday at the Youngstown-Warren Regional Airport in Vienna and spent the night at a hotel in Boardman.
Ryan and his wife, Janna, ate at Chili's after getting into town. After a Boardman High School football game, five freshmen saw the couple eating dinner and waved and gave a thumbs up. Ryan went to them and invited the five — Taylor Campy, Jennie Neapolitan, Kris Santilli, Jack Bresnahan and Mark Gothem — to his table to talk for a few minutes.