Warren Officer Harrell's alertness thwarts abduction of boy, 3
Niles PD solves Amber Alert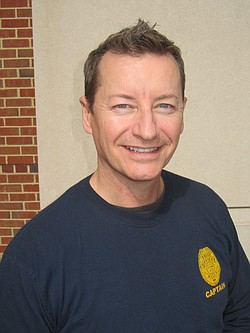 Video
By Ed Runyan
NILES
Warren Patrolman Ben Harrell went to work a couple of hours early Friday when he learned that an Amber Alert had been issued overnight for an abducted 3-year-old Niles boy.
He learned from a Warren dispatcher that Ross Francis of Niles, a person of interest in the case, had been involved in a fight at a home in the Villager Mobile Home Park just south of Warren about 7:30 p.m. Thursday.
Harrell headed in that direction.
His hunch paid off in 25 minutes as he spotted the silver Impala involved in the abduction headed south on Tod Avenue at 5:30 a.m.
Harrell had to turn around and catch up to the Impala before he could tell it was the right one — by seeing duct tape on the rear bumper and noticing the three letters of the license plate matched.
That's when Harrell, a father of two, realized how important the next few minutes could be to the little boy he hoped was still in the back seat.
"That's when your training comes in," Harrell said.
The officer reported the situation to a dispatcher and continued to follow but didn't activate his lights and siren to avoid a chase.
A little farther south, Francis stopped his car in front of 4424 Tod Ave. SW, then pulled into the driveway.
"I jumped out, I've got my gun drawn," Harrell said.
Francis, 42, opened the driver's door, apparently planning to run, but he gave up immediately and went to the ground without incident.
Within a short time, fellow officer David Weber arrived to take possession of Francis, allowing Harrell to check the back seat of the car.
"The boy was balled up in a fetal position" in his car seat, not strapped in, Harrell said. "He was scared to death."
Harrell said he asked the boy if Francis had hurt him.
"He said, 'I hit him in his head.' I said, 'Good boy.'"
It was cold, so Harrell took the boy, Michael Babuka III, to the nearest house, and a man allowed them inside and wrapped Michael in a blanket.
Michael's father, Michael Babuka Jr. of Niles, the boy's grandfather and other family members came to the scene for a joyful reunion.
They also showed their appreciation for Harrell's actions.
"They both hugged me. They were pretty happy," Harrell said.
Harrell said he's grateful that Francis gave up without putting the child in any further danger.
"Thank God it happened the way it did and [the boy] didn't have to experience any more trauma," Harrell said of a possible high-speed chase or physical confrontation with Francis.
"He went through five hours of hell. He didn't need any more."
Harrell, who works primarily as a traffic investigator, said he hopes the efforts of scores of other officers who searched throughout the night, many of them on their own time like him, won't be overlooked by his good fortune to find the boy.
Capt. Ken Criswell of the Niles Police Department said the number of officers from across the Mahoning Valley who checked apartment complexes, motels and every other conceivable location looking for the boy could very easily be more than 100.
On Thursday evening, Michael Babuka Jr. had gone inside 512 John St. to pick up another child, leaving his 3-year-old son in the back of the car sleeping. When he came back out several minutes later, the Impala was going down the street, Niles police said.
The Amber Alert was issued shortly after the 10:44 p.m. 911 call.
Niles police quickly had a good lead on who may have taken the car when Weathersfield police reported they had picked up an intoxicated Francis after he allegedly had thrown potted plants at a parked car on state Route 169 north of Niles at 9:30 p.m.
Weathersfield police issued Francis a summons to appear in court for misdemeanor charges of criminal mischief and criminal trespass in the incident.
Weathersfield police took Francis, who was on foot, to the Convenient Food Mart at the corner of North Main and Federal streets in Niles about 20 minutes before the Impala was taken, Criswell said.
The store and the John Street address are only a half block from each other.
Francis has a lengthy record involving theft charges but also child endangering, which elevated officers' concerns for the boy's safety, Criswell said.
So when officers learned that Harrell had arrested Francis and recovered the boy safely, it was a great relief.
"Benny was the hero. He truly is. If he hadn't found him, who knows when we would have found him," Criswell said.
Criswell and Harrell said it doesn't appear that Francis intended to abduct the boy and only wanted a car.
Francis had just gotten out of the Trumbull County jail at 8:30 a.m. Thursday, having served more than four months on a probation violation.
Francis had a burglary conviction in 2000 that resulted in a two-year prison sentence.
Police say Francis has various addresses, including one on Belmont Street in Warren and Robbins Avenue in Niles. Over the years, he also lived in Hubbard and Girard.
He will be arraigned on kidnapping and auto-theft charges Monday in Niles Municipal Court. The kidnapping charge carries a possible penalty of 11 years in prison. Auto theft carries a penalty of up to 18 months.