Home Depot volunteers spruce up Struthers AMVETS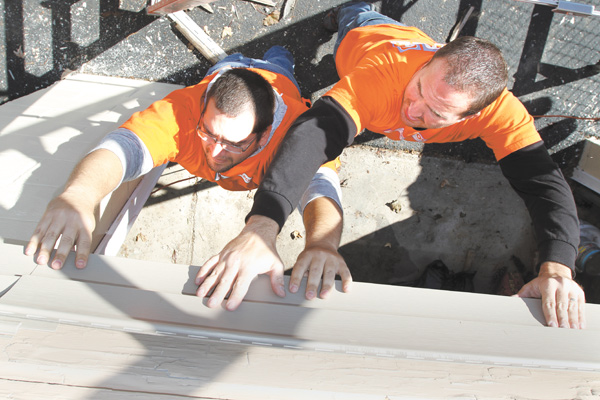 ---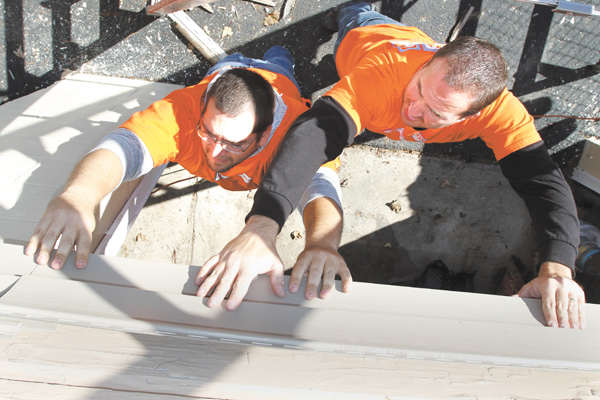 Photo
Home Depot volunteers Jason Weiser, left, of Boardman and Tim Hephner of Hermitage, Pa., install siding Thursday at the AMVETS Post 44 Career Center on Elm Street in Struthers. The project was financed by a $15,500 Home Depot grant.
STRUTHERS
Nearly 100 Home Depot employees from two states used their days off giving a second face lift to the AMVETS Post 44 Career Center.
Beginning at 8 a.m. Thursday and winding up the project about 5 p.m., Home Depot volunteers spent their celebration-of-service day at Post 44, 305 Elm St., landscaping the front of the building (a converted church), painting its exterior and an AMVETS-owned house next door, and installing vinyl siding on the garage.
On the lower levels of the career center, used for classes and as a rental hall, they installed laminate flooring and drywall.
"I walked in there just as they finished. It warms up the space. It doesn't look like a basement anymore. Now it's a lower level," said Jan Brown, Post 44 commander.
The work was financed by a $15,500 grant from Home Depot and completed by company associates from stores in Hermitage and Oil City, Pa., Ashtabula, Austintown, Niles and Boardman, said Thomas "Buddy" Colley, Team Depot district captain and manager of the Boardman store. "They love giving back to the community," he said.
"Even with the money, if we had had to find volunteers, it would have been a five-year rather than a one-day project. I kept them fed and hydrated. All I can say is thank you, thank you, thank you," Brown said.
Last year, Home Depot volunteers painted the interior of the AMVETS Post and built a handicapped ramp financed by a Home Depot grant of $10,200.
The AMVETS Post Career Center recently won a $25,000 gift card in Home Depot's Aprons in Action Facebook contest.
Brown said the gift card likely would be used to purchase new energy-efficient windows. She said Post 44 and Home Depot officials will meet in the near future to create a plan for using the gift card.