Firefighters open Hubbard station for public review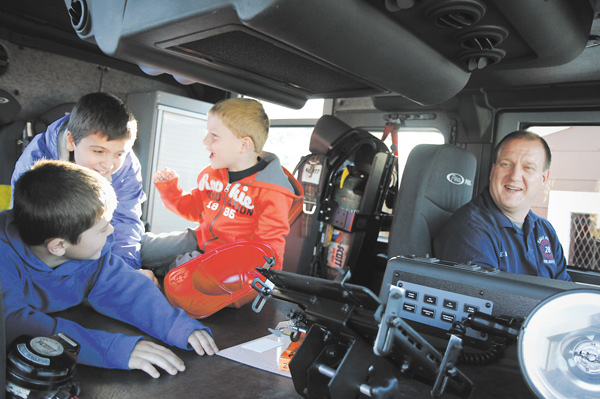 ---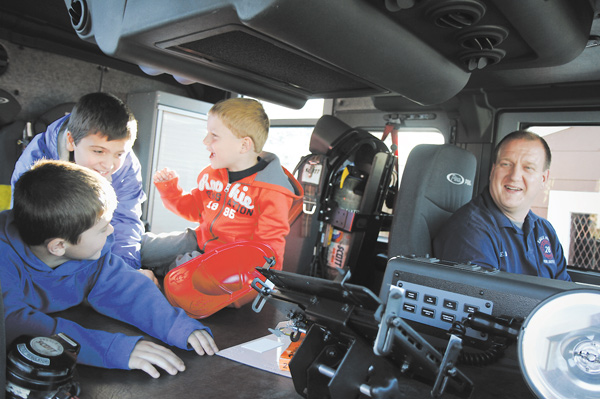 Photo
From left, Benjamin Wilcox, 7, Josh Wilcox, 10, Eli Barr, 5, and firefighter Eric Barr, all from Hubbard, enjoy the inside of a fire engine at the Eagle Joint Fire District and Hubbard Volunteer Fire Department's open house. The truck was one of four engines that children and families could see during Thursday's event.
By Danny Restivo
HUBBARD
Local firefighters allowed families to get a close-up look at their equipment and their station Thursday.
The Eagle Joint Fire District and the Hubbard Volunteer Fire Department invited residents to an open house at Fire Station 28 at 33 W. Liberty St. as part of National Fire Prevention Week.
During the evening, adults and children were able to see four fire engines on display, watch a fire extinguisher demonstration, eat hot dogs and enjoy an evening with the district's 27 volunteer firefighters.
"It's just a chance for the community to see what we do," said Capt. John Petro of the Joint Eagle Fire District, which serves the city and township.
The event was sponsored by the National Fire Protection Association, which, according to its website, has been advocating and educating adults and children about fire since 1896.
Petro said the event was designed for families to learn about the department's safety services, but he thinks the children have the most fun.
Nathan Allison, 6, came to the open house after Petro and other firefighters visited his first-grade class at Hubbard Elementary School this week.
Nathan said firefighters taught him about fire safety, escaping a fire, and how to stop, drop and roll if his clothing catches on fire. Their message had an impact on the youngster.
"I want to be a firefighter because firefighters take down fires," he said. "And it's cool."
Two-year-old Landon Lovey has a grandfather and an uncle who are firefighters. Although his grandmother, Claudia Mogg of Hubbard, isn't quite sure whether he will join them yet, the toddler wore yellow boots, a yellow raincoat and a red fire helmet during the festivities. Mogg said the evening is about fun for her grandson and the other children.
"It's just great that the kids get to see this," she said, adding it's also good that city and township residents can "see what the department is all about."