Campbell students treated to event at Skate Zone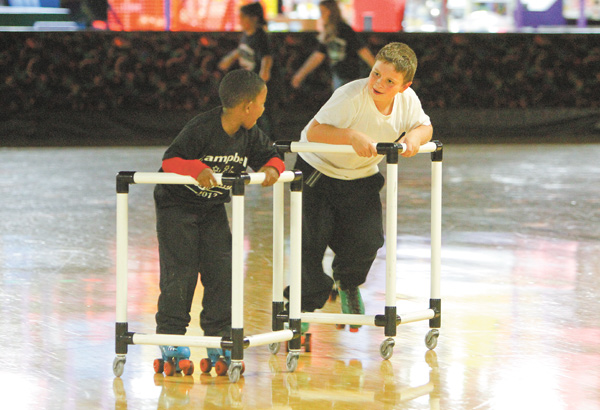 ---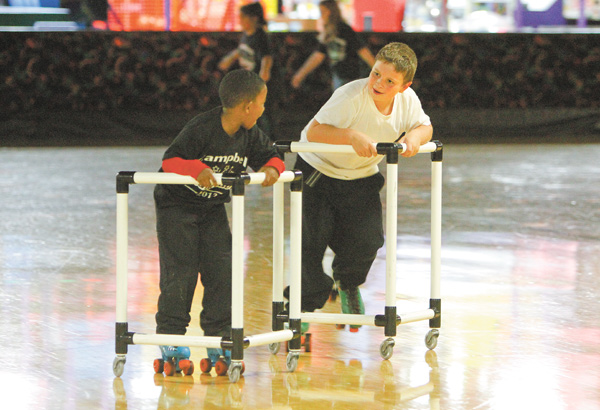 Photo
Jawaylyn Bankston, left, and Shawn Paul Joseph take it easy as novice skaters. They were at the Skate Zone in Austintown on Wednesday as a reward for passing their math and reading Ohio Achievement Assessment tests last year.
By Jeanne Starmack
Austintown
If you're a fourth- grader, getting a half-day off from school is swell — but getting to spend that half-day skating?
Swell on wheels!
Thirty-three Campbell Elementary School fourth-graders who passed their third-grade reading and math Ohio Achievement Assessment tests this past spring got on a bus Wednesday morning at the school and went to the Skate Zone in Austintown, where they were treated to skating, laser tag and skeeball.
At noon it would be back to reality. For a while though, it was just free-wheeling fun. The music was good — and loud. They even got lunch.
All in all, not a bad deal just for passing some tests.
"You get to skate and roam free," pointed out Ariana Valentin, 10.
Definitely a motivator. Anything a school can do to entice a child with something he or she wouldn't normally get is, said Justine Trueslow, a fourth-grade math and science teacher who was chaperoning — and getting in a little skating herself.
Some of the students there, she said, were skating for the first time. As their more-experienced counterparts glided by effortlessly, those first-timers gave it the old fourth-grade try with contraptions that look a lot like walkers on wheels. The devices kept them from falling. Well, almost all of them. But when you're nine or 10 years old, isn't falling just part of the whole adventure?
"I fell a couple of times," said Keila Cortes, 9. That would not stop her, though, from coming back, she said.
Chenille Mantilla, 9, pronounced the whole skating experience a little scary, but she was still having a good time. First-timer Ziola Gane, 9, thought so as well.
Laser Tag, not skating, was it as far as the most fun of the morning for Tiffany Roldan, 10.
"This place is great!" said Jose Martinez, 9. "It feels cool," added his friend Cameron Robinson, also 9.
Knowing that she was going to go to Skate Zone if she passed her tests made her want to do well on them, said Ahmari Weaver, 9.
Campbell Elementary Principal Robert Walls initiated incentive programs to make kids want to learn, said Annette Tovarnak, a fourth-grade reading and history teacher at the school.
"I think the kids enjoy going on one special field trip, and I think it motivates the others to try their best next time," she said.