Warren dog owner: Accusations were false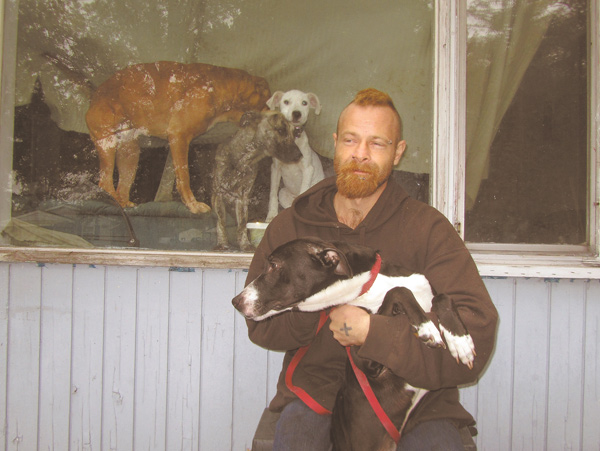 ---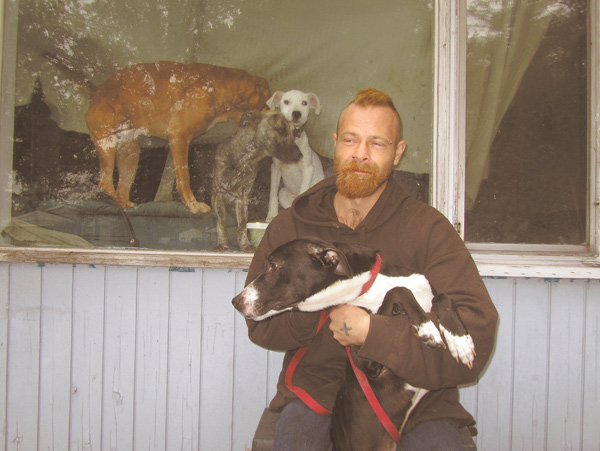 Photo
Michael Kelley, one of two people living at 2518 Hamilton St. SW, holds Oreo, one of the four dogs he and his girlfriend, Tiffany Charlton, keep at the home. The three others are shown behind him inside the house. The Warren Police Department and Warren Health Department ordered the house cleaned up and seven of the 11 dogs removed late last month because of conditions.
By Ed Runyan
WARREN
Megan Hartford, who lives next door to Tiffany Charlton and Michael Kelley on Hamilton Street Southwest, says, said it "killed" Tiffany to have to reduce her pet population from 11 dogs to four late last month.
"She really loved every one of those dogs. She cried for days," Hartford said of Tiffany, who has been a friend since the women were little girls.
But a cousin of Tiffany's called the city to complain that Tiffany's house had no electricity or running water, that the yard was a mess and that the 11 dogs were not being properly cared for.
City officials ordered Tiffany to reduce her dog population to four and clean up.
On Tuesday, when The Vindicator stopped at the home adjacent to the former Warren Western Reserve High School site, Kelley said many of the accusations were false, such as the electricity and running water.
"It was false accusations," Kelley said. "They were being fed every day."
Very few of the dogs were malnourished, and none was without water, Kelley said.
He and Tiffany also have cleaned up the property since officials were there.
"We were doing this out of our own pocket, doing this for the dogs, nursing them back to health," he said of the reason they had 11 dogs.
"People bring them to us. We found homes for them. We're not going to stop," he said, adding that area animal shelters don't have the room to house all of the homeless dogs, so he and Tiffany try to help out.
"We're like an animal rescue," he said. "We were giving a helping hand to the animal shelter. And they're begging for help."
Kelley admits one of the dogs, named Moo Moo, was not in good health when the city's animal-control officer, John Onatz, came to the house.
They had only recently started to care for the mixed-breed, so its weight was low.
Charlton and Kelley gave the seven extra dogs back to their owners in some cases and found other "safe" homes for the others, Kelley said.
He and Charlton will abide by the city's four-dog limit but have been rescuing dogs for more than a year and believe they will be able to do it again sometime in the future.
Hartford said she tried to tell Charlton that Moo Moo needed veterinary care just before Onatz showed up. The dog most likely had worms, which is why Hartford felt the dog wasn't gaining weight, despite being fed a lot.
Though Charlton and Kelley are low-income, Hartford said that shouldn't stop anyone from getting veterinary care for a sick dog.
"I'm low income, and my vet works with me," Hartford said.
"They're good with animals," she said.
"It just got carried away. At first, they had no animals, and people just kept dropping them off. She got overwhelmed."
Onatz said Wednesday he's had no complaints in recent weeks about the care Charlton's dogs are getting or the number she has, and he's fairly sure he'll get a call if there is a problem.
"It's been pretty quiet," he said.
Bob Pinti, deputy Warren health commissioner, said the home violated property maintenance codes because Charlton was storing numerous pieces of wooden furniture, home fixtures and trash in the yard.
Some of that has been cleaned up, but the health department is continuing to work with Charlton to finish the cleanup, he said.
Pinti confirmed that Charlton's home did have water and electric when city officials were first called to visit.