Kira A. Sanders to be bride of Ty Henkaline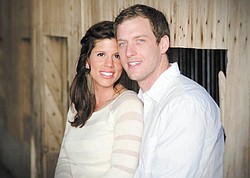 Photo
Kira A. Sanders and Ty Henkaline
COLUMBIANA
James and Barbara Sanders of Columbiana are announcing the engagement and upcoming marriage of their daughter, Kira Ann Sanders of Columbus, to Ty Henkaline, also of Columbus. The parents of the future groom are Jerry and Char Henkaline of Minster, Ohio.
The Darby House, Columbus, will be the setting for the open wedding at 11 a.m. Oct. 20. Invitations will be extended for a reception afterward at the same location.
The bride-elect graduated from Ohio State University with a bachelor's degree in Spanish and international studies and a master's degree in Spanish education. She is employed by Grove City Schools in Columbus.
The future groom graduated from Ball State University with a bachelor's degree in psychology. He received a master's degree in clinical psychology from Ohio State University, where he is working toward a master's degree in applied statistics and a doctorate in quantitative psychology. He is an independent research consultant for Nationwide's Center for Advanced Customer Insight in Columbus.