JFK boys golfers ready to add to impressive legacy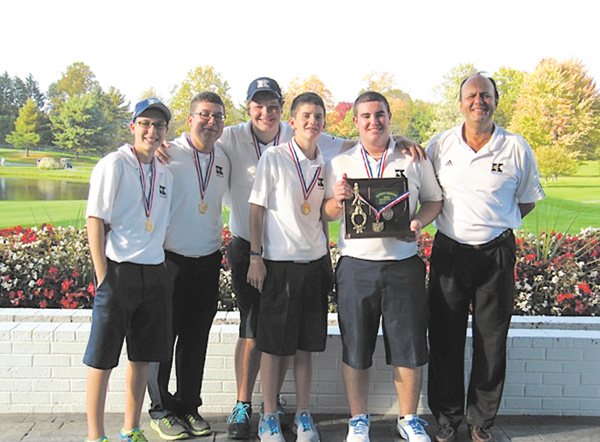 Photo
The Warren JFK golf team will compete in the Division III Boys State Championships this weekend. Team members are (from left) Daniel LaPolla, James LaPolla, Stephen Macali, Ryan Fowler, Billy Phillips and Coach Jim St. George.
WARREN
Focused. Prepared. Ready.
"All of the above," is how Warren JFK golf coach Jim St. George describes his team's outlook for the Division III state golf tournament.
"It's our first trip in five years," St. George said. "We're also excited and confident."
The Eagles have reason to be.
They were three-time sectional champions and compiled a 70-11 record in invitational matches with an 11-3 mark in dual matches.
This team goes way beyond their record, though. These Eagles are a family.
And not just because two are related — Dan and James LaPolla, brothers.
"I've never had a team that's been this equal," senior Stephen Macali said. "Anybody can pick anybody up."
Macali and James LaPolla have worked at the Trumbull Country Club for nearly two years and fellow teammates Ryan Fowler and Billy Phillips began working at the course over the summer.
"We're starters and bag attendants," Macali said. "From sun-up until the end of the day we're there together working and playing. We've became so close just bonding over the sport we love."
To prepare for Friday's first round, JFK practiced on 81 holes throughout the week. The large, sloping greens of Candywood and the links layout of Firestone Farms rival that of the Northstar resort in Sunbury.
"If I just play smart I think I'll be fine," James LaPolla said. "Even though I've never played the course, it doesn't really matter if we all go in mentally prepared."
Of the 11 other teams that qualified in Division III, the Eagles have beaten five, including St. Thomas Aquinas, Sugarcreek Garaway and Lima Central Catholic.
JFK is a three-time state champion and two-time runner up. The school boasts current Ohio State golfer Boo Timko, who spent two years there before attending Canfield, and PGA professional Jason Kokrak.
"I actually do feel like we're representing a legacy," Macali said. "People may not look up the records in a history book, but a lot of people from around here are expecting us to win and we expect it, too."
Macali doesn't feel as if there's a target on their backs as there are seven other new teams to the tournament. The reigning D-III champions, Columbus Wellington School, does return without losing any seniors from last year.
"We're playing the course," Macali said, "not other teams."
The 365-day journey to the state tournament began when the Eagles were disqualified due to a scorecard error in the 2011 district tournament.
"I realized in the summer what we needed to accomplish," LaPolla said. "Towards the end of the season, everything came together and I'm playing my hardest to win a title."
The first Eagle golfer will tee off on the No. 10 hole at 9:56 a.m.