Sandusky sentenced to 30 years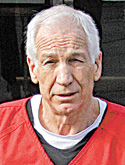 ---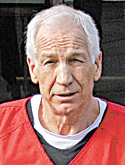 Photo
Associated Press
BELLEFONTE, Pa.
In what sounded at times like a locker-room pep talk, Jerry Sandusky rambled in his red prison suit about being the underdog in the fourth quarter, about forgiveness, about dogs and about the movie "Seabiscuit."
With his accusers seated behind him in the courtroom, he denied committing "disgusting acts" against children and instead painted himself as the victim.
And then, after he had said his piece, a judge sentenced him to 30 to 60 years in prison Tuesday, all but ensuring the 68-year-old Sandusky will spend the rest of his life behind bars for the child sexual-abuse scandal that brought disgrace to Penn State and triggered the downfall of his former boss, football coach Joe Paterno.
He leaves behind a trail of human and legal wreckage that could take years for the university to clear away.
"The tragedy of this crime is that it's a story of betrayal. The most obvious aspect is your betrayal of 10 children," Judge John Cleland said after a hearing in which three of the men Sandusky was convicted of molesting as boys confronted him face to face and told of the lasting pain he had inflicted.
The judge said he expects Sandusky to die in prison.
In a disjointed, 15-minute address before he learned his sentence, Sandusky said: "In my heart, I did not do these alleged disgusting acts."
Sprinkling his remarks with sports references, the former assistant coach spoke of being locked up in a jail cell, subjected to outbursts from fellow inmates, reading inspirational books and trying to find a purpose in his fate. His voice cracked as he talked about missing his loved ones, including his wife, Dottie, who was in the gallery.
"Hopefully we can get better as a result of our hardship and suffering, that somehow, some way, something good will come out of this," Sandusky said.
He also spoke of instances in which he helped children and did good works in the community, adding: "I've forgiven, I've been forgiven. I've comforted others, I've been comforted. I've been kissed by dogs, I've been bit by dogs. I've conformed, I've also been different. I've been me. I've been loved, I've been hated."
Sandusky was convicted in June of 45 counts, found guilty of raping or fondling boys he had met through the acclaimed youth charity he founded, The Second Mile. He plans to appeal, arguing among other things that his defense was not given enough time to prepare for trial after his arrest last November.