Rapid Cardinals sting Tigers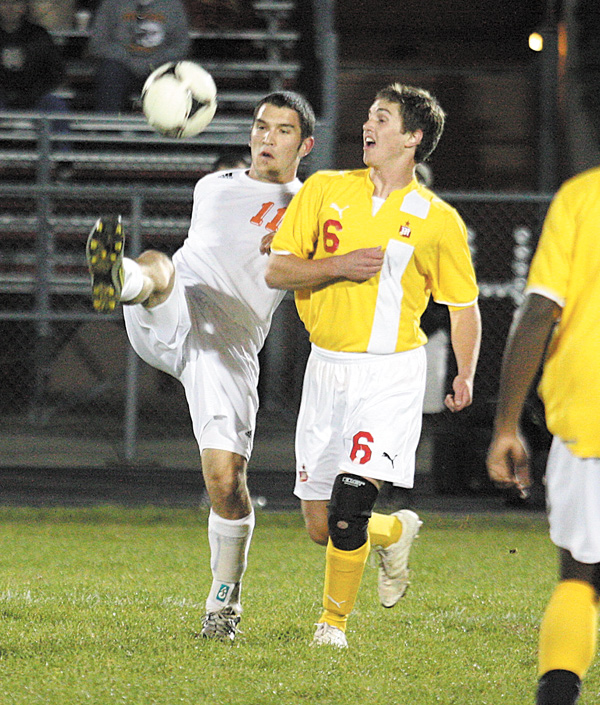 ---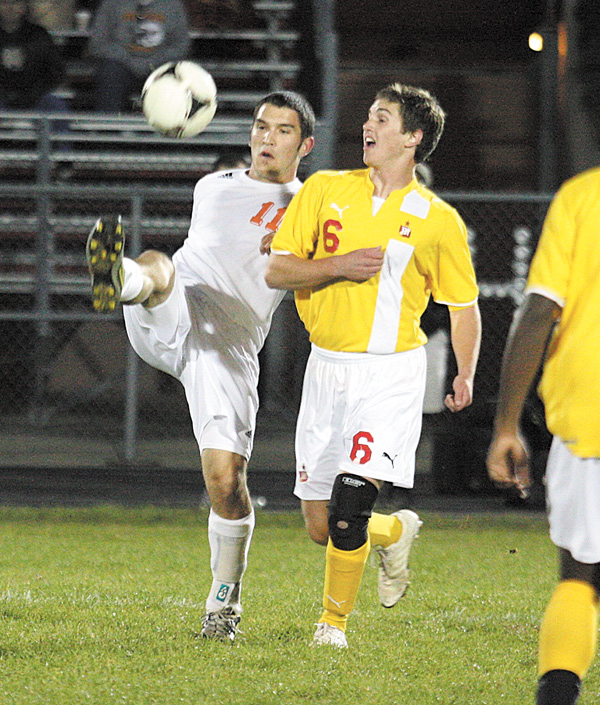 Photo
Howland's Jacob Froats (11) and Cardinal Mooney's Pat Price battle for the ball during Tuesday's soccer game in Howland. Mooney won 4-2.
By Ryan Buck
HOWLAND
Fast starts have served the Cardinal Mooney boys soccer team well this season.
An early lead carried the Cardinals once again in Tuesday's 4-2 victory over Howland at the Howland Middle School Soccer Complex.
Junior forward Jake Payne and senior Byron Abrigg gave the Cardinals a huge edge with quality shots on net in the opening minutes.
Payne accelerated through the Howland defense and drilled a shot past Tigers goalkeeper Kurt Kuszmaul for a 1-0 lead in the game's first minute.
Abrigg's textbook run from his right fullback spot created the second opportunity. He punctuated his sprint forward with the Cardinals' second score three minutes in.
"It's six times this year we've scored in the first five minutes," first-year Mooney coach Lou Cali said. "And we're 6-and-0 in those games."
The early deficit was devastating for Howland (6-7-2).
"They came down, they beat us with speed and had two just fantastic shots on goal," Howland coach George Stevens said. "If you're gonna open a game, that's the way you open a game."
Howland, who had won five of six leading into Tuesday, picked itself off the turf and fought back.
While they lacked Mooney's skill, the Tigers picked up the pace as the Cardinals seemed to retreat.
"I think our kids, after the second goal, relaxed a little bit," Cali said. "They knew every time we scored early, we played well and cruised to a win. This time, it wasn't like that."
With 10 minutes left in the first half, Cody Davis drilled home a loose ball off a corner kick to cut the Tigers' deficit in half at intermission.
"We picked up the intensity," Stevens said. "I don't know that we controlled it, but we took away a little bit of their momentum. I was happy to see that."
The Cardinals ( 8-5-1) did control play to open the second half, just as they did the first. Crisper passing and sharper runs at the Howland net led to their third goal with 30:23 to go.
Center midfielder Pat Price fed a fine pass to Clayton Walker 20 yards from goal. He addressed the ball from his left and let it fly. A perfectly-placed, off-footed shot sailed into the top right-corner to put Mooney ahead 3-1.
"If you don't shoot, you don't score," Walker said. "I went for it and thank God it went in."
With 17 minutes remaining, Mooney was again bitten by a set piece from Howland.
A foul gave the Tigers a free kick 20 yards to Mooney goalkeeper Robbie Premec's left. In the confusion after the cross, Matt Doan's shot caromed off a Mooney defender's foot to find its way past Premec.
"We pride ourselves on attacking set pieces and we've been very successful at that," Cali said. "This year it's been a struggle stopping them."
Unfazed, Mooney refused another retreat. In the final minute, Walker slashed through Howland's back line and helped Chase Rose victimize his old school. Rose's shot from eight yards out completed the scoring.