Mahoning Auto Title Dept. now serving more
Tweet
Published: Wed, October 10, 2012 @ 12:00 a.m.
Mahoning County Auto Title Department moves to new site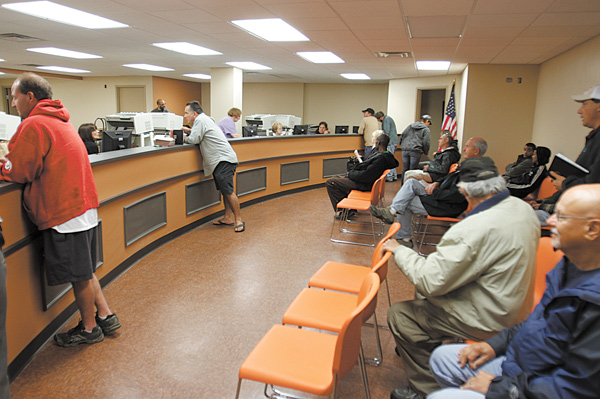 Photo
Mahoning County Auto Title Department, which also processes passports and paperwork to become naturalized American citizens, is now located at Oakhill Renaissance Place, 345 Oak Hill Ave., on Youngstown's South Side. A new counter provides a much larger open area for customers to talk to clerks. The department, which opened Tuesday, moved from the South Side Annex on Market Street to the former Forum Health Southside Medical Center.
YOUNGSTOWN
The Mahoning County Auto Title Department is open for business at Oakhill Renaissance Place.
The agency, the last to leave the county's South Side Annex in the city's Uptown District, opened Tuesday.
The title department, which has 17 employees and is under the jurisdiction of the county clerk of courts, closed at noon Friday at the annex, where it had been for 33 years, and moved to Oakhill over the Columbus Day holiday weekend.
Oakhill is the former Forum Health Southside Medical Center at 345 Oak Hill Ave.
The move had to be coordinated with the Ohio Bureau of Motor Vehicles because the title department is linked to the state's computer system.
County commissioners will now sell or demolish the annex at 2801 Market St., which once housed Sears and Treasure Island department stores.
The motor-vehicle title issuance office is on Oakhill's first floor near Entrance A, the same entrance used by those going to the county board of elections and veterans' service commission.
Now that early voting is under way at the board of elections, that area of Oakhill is busy, with a deputy sheriff stationed there to ensure security and proper use of designated parking spaces, including those reserved for disabled veterans and other handicapped people.
"So far, it's nice," said Carmelo Rivera of Boardman, one of the title department's earliest Tuesday customers, said of the new office.
Rivera, who had to leave and return with more cash to get a title for a car he had just purchased, added, however, "They need an ATM in this building."
The title department accepts only cash and money orders from individuals and does not accept credit or debit cards, and it accepts checks only from motor vehicle dealers, said Tony Vivo, county clerk of courts.
"Now that we have more tenants in this building, it might be a good idea," to install an ATM at Oakhill, Vivo said. There was no ATM at the annex, but there was a nearby bank, he added.
The title department has a designated area outside Entrance A for occasional title office inspections of vehicles, which are necessary to check their serial numbers if they were purchased out of state.
It also will have several reserved parking spaces for runners for auto dealers directly in front of Entrance A to expedite their coming and going.
"We have to run this like a business," Vivo said. "We need to make it as efficient and quick for them as possible so they can get back to the dealership and sell some cars," Vivo said of the auto dealers and their representatives, who often need multiple vehicle titles.
A shuttle van is available to transport title department customers and early voters from Oakhill's parking areas to Entrance A.
Temporary signs at Oakhill directed the public to the new title office, with permanent signs to be installed this week, Vivo said.
The renovated title department offices feature a waiting room and service counter, where up to 10 employees can simultaneously serve customers, with passport offices on either side of the counter. The title office also processes naturalizations of new citizens.
"Our purpose was to create the most-efficient office possible," said Scott Grossen, clerk of courts office administrator.
"We're up and running and ready to serve the public," said Steve Dar- vanan, auto title supervisor.
Behind the curved counter, clerks can efficiently swivel in their chairs from the counter to their computer terminals, printers and cash drawers without having to walk across the room to a printer as they did at the annex.
"You want to make sure everything is in the radius of the person's arms, so they don't have to get up and walk around. We've been able to do that. We're very happy with the new design," Vivo said.
"The public will be more impressed when they walk into it. It looks a lot more professional" than the annex space, Darvanan said, adding that the new quarters are more visually appealing.
Last year, the title department processed 176,076 title transactions, compared with 166,760 in 2010.
Vivo attributed the increased activity to the emergence from the recession and the success of General Motors with the Lordstown-built Chevrolet Cruze.
In the first nine months of this year, the title office handled 140,719 transactions, Vivo said.