Mill Creek's vibrant fall foliage stunning ceremonial backdrop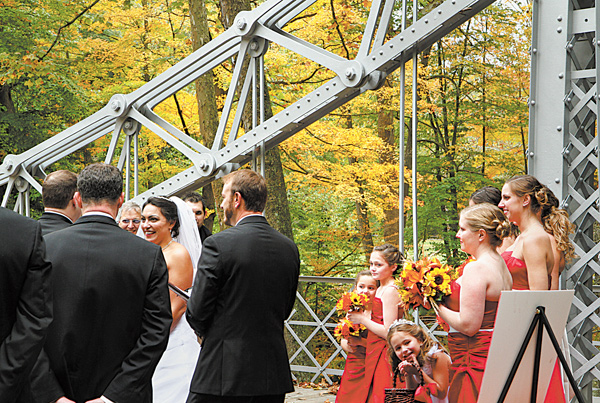 ---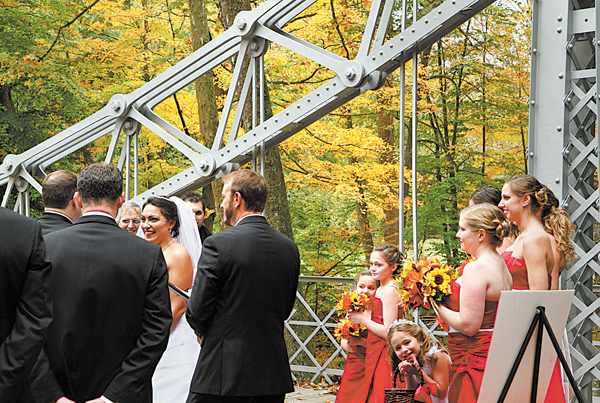 Photo
Julie Posey and Joshua Shaull, both of Cortland, were married Sunday on the silver Suspension Bridge in Mill Creek MetroParks. The couple chose the date and location so the natural scenery of autumn could serve as decoration.
By Ashley Luthern | aluthern@vindy.com
YOUNGSTOWN
AS PEAK SEASON FOR AUTUMN leaves approaches this weekend, one local couple already found inspiration in the fall foliage.
Julie Posey, 25, wed Joshua Shaull, 35, on the silver Suspension Bridge in Mill Creek MetroParks on Sunday.
"I didn't decorate the bridge. I wanted the leaves to be the decoration," said Posey, who added fall is her favorite season.
The flower girl didn't sprinkle petals down the aisle; she sprinkled leaves.
"We are both outdoorsy people, and the first time we hiked through here, I thought how beautiful it would be for a wedding," she said.
The bridesmaids donned apple-red dresses and carried bouquets of orange and yellow flowers, paying homage to the vibrant colors fluttering in the wind.
Casey Burdick, fall color forester for the Ohio Department of Natural Resources, said the Mahoning Valley should reach peak leaf season at the end of this week and this weekend.
"This year especially we started seeing color in mid- to late September, which is early, and that was because of the hot dry summer we had in Ohio," Burdick said.
The early change was most noticeable in urban areas and yards, where trees are without a canopy and more exposed to the elements, she said.
Ray Novotny, education manager at Mill Creek MetroParks, said interest in the park increases during this colorful season.
"The best spot, it's just so famous and hardly a secret, is Lake Glacier at lake level and above from the garden outlook," he said, referring to the view from Fellows Riverside Gardens.
A hike around the lake is planned for 2 p.m. Sunday, and hikers should meet at the Ford Nature Center. The vibrancy of the leaves depends on weather conditions in September and October.
"It's been great so far, actually. We've had nice sunny days and cool evenings and moderate rain," Burdick said.
Those conditions foster a chemical reaction that helps trap leaf-produced sugars inside each leaf.
"When sugars get trapped, it causes the chemical reaction that breaks down chlorophyll, the green part of the leaf we're used to seeing. ...If we have more sunlight, we're more likely to have reds and purples," she said.
The moderate rain Burdick spoke of did appear during Sunday's park wedding, but it didn't put a damper on the festivities.
"We had a little light rain, and everything went smoothly," Shaull said. "The set-up was great, and we had hikers stop and watch. It was a really great day."
Posey said the leaves served as the perfect wedding backdrop and reinforced her love of autumn.
"I wish leaves would fall through winter instead of snow," she said.