President fires up students at OSU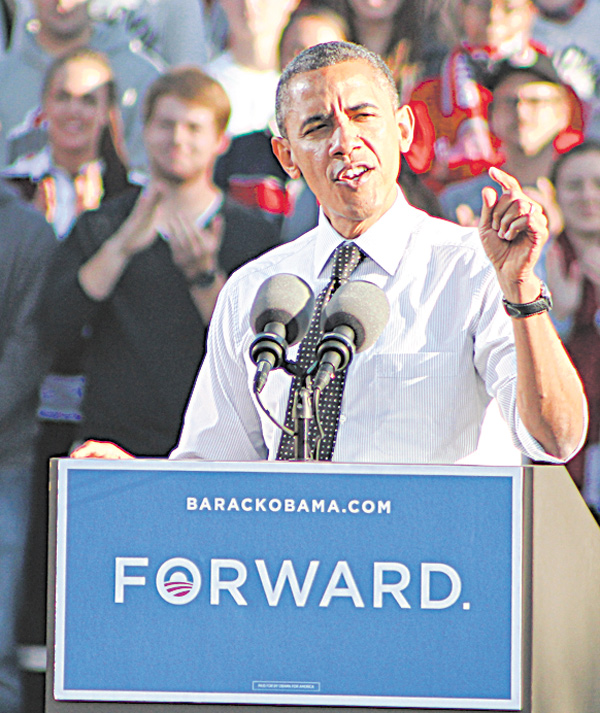 ---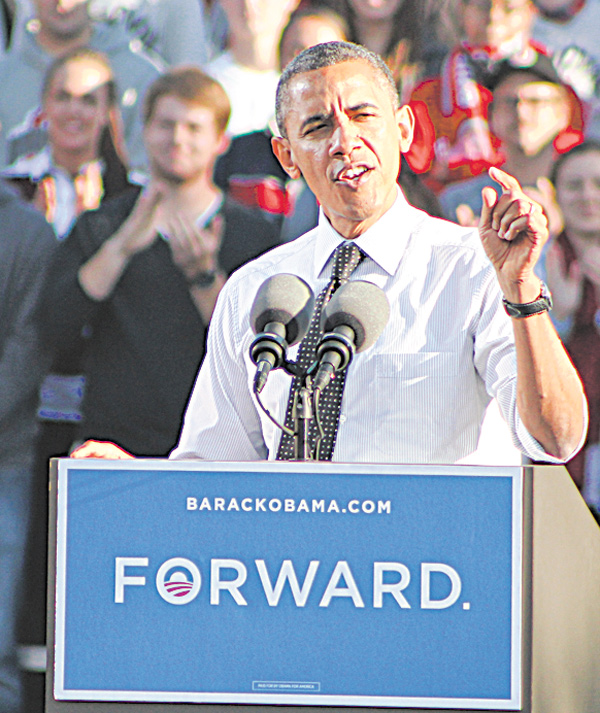 Photo
RELATED: Big Bird takes to the air in Obama ad
By Marc Kovac
COLUMBUS
President Barack Obama urged thousands gathered on the lawn on Ohio State University's central campus to do more than just listen to his words.
He also urged the crowd Tuesday to get on nearby buses afterward for a free ride to the area's early voting site, where they could register and cast ballots before the night was over.
"I know it's easy to procrastinate in college," Obama said to the largely student crowd, hours before the state's voter registration deadline. "I procrastinated a lot. But we've made it easy. You have until 9 p.m. tonight. ... No excuses. I know you guys are up at 9 p.m."
He added, "I need your help to finish what we started. ... We have come too far to turn back now. The American people have worked too hard, and the last thing we can afford to do right now is to go back to the very same policies that got us into this mess in the first place."
Obama spoke for about 20 minutes to more than 15,000 people at OSU, with an oversized American flag displayed next to oversized letters that urged onlookers to "Vote Early."
Musician will.i.am of the Black Eyed Peas warmed up the crowd, leading chants of "four more years" and voicing his support for education funding and Sesame Street, the children's program that has become a campaign topic for Obama since his Republican challenger mentioned the possibility of cutting public television funding during last week's presidential debate.
Obama lofted a couple of zingers of his own on the topic, saying, "Elmo's making a run for the border, and Oscar is hiding out in a trash can. Gov. Romney wants to let Wall Street run wild, but he's going to bring that hammer on Sesame Street."
Otherwise, Obama's speech was in line with others he's given during his dozen-plus visits to the state this campaign season. He offered a recap of his kept promises — lowering taxes, ending the war in Iraq and tracking down Osama bin Laden, reforming health care and bailing out the automotive industry.
"Four years after the worst economic crisis of our lifetimes, our businesses have created more than 5 million new jobs," Obama said. "This past Friday, we found that the unemployment rate had fallen from a high of 10 percent down to 7.8 percent, the lowest [rate since I took office]. Manufacturing is coming back to America. Home values are on the rise."
But the Romney campaign chastised Obama for repeating what it called "false and discredited" claims about Romney's economic plan, namely a purported $5 trillion tax cut for the wealthy.
Not true, said Romney spokesman Ryan Williams.
"This is what happens when a president has no record to run on and is unable to present a plan for the future," he said in a released statement. "Mitt Romney's tax plan will lower rates, broaden the base and provide relief for middle-class Americans while helping create millions of new jobs. The choice facing Americans couldn't be clearer. As President Obama continues his campaign of dishonest attacks, Mitt Romney will focus on his plan to fix our economy and restore prosperity for all Americans."
Earlier in the day, during a conference call with reporters, Gov. John Kasich said Obama has offered no answers to the nation's economic issues. The threat of higher taxes and more regulations is stifling business growth and investment, he said.