Just how do Valley bridges measure up?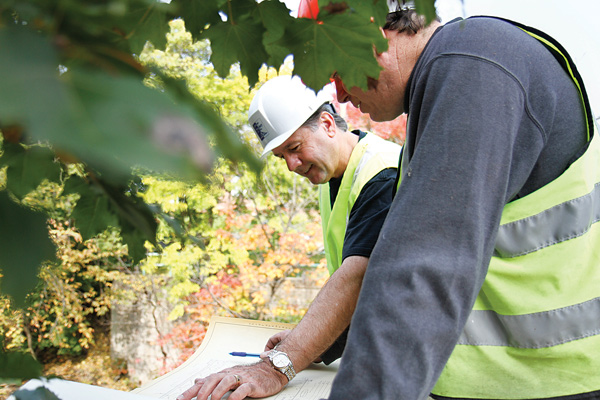 ---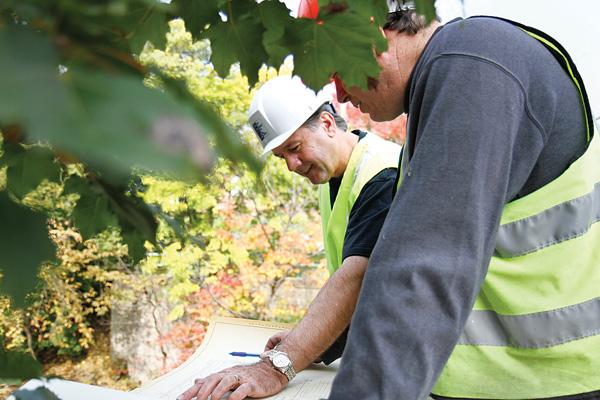 Photo
Hochevar, left, and Partika inspect the bridge above Yellow Creek in Struthers and record the data. Hochevar gave the bridge a favorable rating, despite visible rust on its support beams.
STRUTHERS
The Lowellville Road bridge over Yellow Creek is fundamentally structurally sound, based on a thorough safety inspection Friday by two engineers atop and beneath the bridge, an engineering consultant said.
Robert A. Hochevar, vice president of Jones-Stuckey Ltd. engineering consultants of Akron, said the bridge at the entrance to Yellow Creek Park in downtown Struthers should remain open and that, based on his initial assessment, he doesn't think its 40-ton weight limit needs to be reduced.
However, Hochevar said he still needs to make post-inspection load calculations pertaining to the single-span bridge.
Randy Partika, bridge engi- neer with the Mahoning County Engineer's Office, assisted Hochevar in inspecting the two-lane, 50-foot-long, 1952-vintage steel and concrete bridge, which carries about 8,000 vehicles daily.
Hochevar gave the bridge a favorable rating, despite visible rust on its support beams, together with spalling of concrete from its abutments and exposure of steel reinforcing bars in that concrete due to water leakage and freeze-and-thaw cycles.
"It's pretty typical for that type of bridge construction" and the age of the bridge, he said of the deterioration he saw. The concrete deterioration won't reduce the load- carrying capacity of the bridge, he added.
"We found very minor rusting at the ends of the bridge. That's typical where water gets through the joints," he said.
Wearing rubber boots, Partika and Hochevar waded in the shallow water of the rocky creek bottom as they used a ladder to inspect the underside of the bridge.
They used calipers to measure thickness of steel, a tape measure to check the length and depth of beams and spacing between them, and hammers to tap and listen for hollow sounds that would indicate concrete deterioration.
The fact that the Lowellville Road bridge is supported by eight steel beams, each being 50 feet long, 3 feet high and a foot wide, bodes well for the bridge to be able to carry substantial loads for a long time, Partika said.
Because many such bridges were "overdesigned" with stronger, larger and more numerous beams than necessary, they "can take on a little rust on the beam ends," he said. "They will still be able to hold legal load because of the overdesign that was put into them," he explained.
When the Lowellville Road bridge was built, the Mahoning Valley steel industry was booming and considerably more heavy truck traffic went across it than uses it today, he said.
Partika conducts his own routine annual safety inspections of the county's 300 bridges, but Hochevar's inspections add complete load-rating measurements and calculations.
Jones-Stuckey is inspecting 28 of the county's bridges to determine what their weight limits should be under a $56,619 contract approved in August by the county commissioners.
If an inspection finds a bridge to be deficient, Jones-Stuckey will advise the county to limit its load or close it, said Marilyn Kenner, chief deputy county engineer.
Hochevar's inspections can evaluate the ability of the county's bridges to carry occasional "superloads," such as 72-ton oil and gas drilling rigs, for which Partika must issue special permits, Partika explained.
Short bridges, such as the Lowellville Road bridge, occupy two inspectors on location for three hours, Partika said.
However, a long bridge, such as the Market Street bridge in Youngstown, occupies five people for five days on location and uses a "snooper" truck on the bridge to suspend the inspectors in a bucket under the bridge, Partika said. The Market Street bridge passed its last inspection last spring with flying colors, he added.
Kenner told the commissioners when they hired Jones-Stuckey that her office wants to avoid a tragedy, such as the Aug. 1, 2007, collapse of an interstate highway bridge over the Mississippi River in Minneapolis, which killed 13 people and injured 145 others.
After the Minnesota tragedy, the Federal Highway Administration ordered all of the nation's bridges inspected and rated as to what loads they can safely handle.
On Feb. 20, 1984, the Oak Street bridge at Lincoln Park on Youngstown's East Side, which had a posted 10-ton weight limit, collapsed into a ravine, as a 10-ton truck carrying 20 tons of steel coil drove over it.
Three people were injured, but there were no fatalities in the 1984 collapse. That bridge was never replaced.
The Lowellville Road bridge will be rehabilitated as part of a $385,000 joint project of Mill Creek MetroParks, the city of Struthers and Mahoning County. Bids will be opened for that project Oct. 17 in the county purchasing office.
The park district leases Yellow Creek Park from the city of Struthers.
The project includes installation of a new deck surface, curbs, sidewalks and railings on the bridge, together with decorative lights on the bridge and in part of the downtown area nearby; installation of a pedestrian overlook at Bridge Street and Lowellville Road; and widening of the park entrance.
The project is being funded by $320,000 in federal funds, with the remainder coming from county funds.