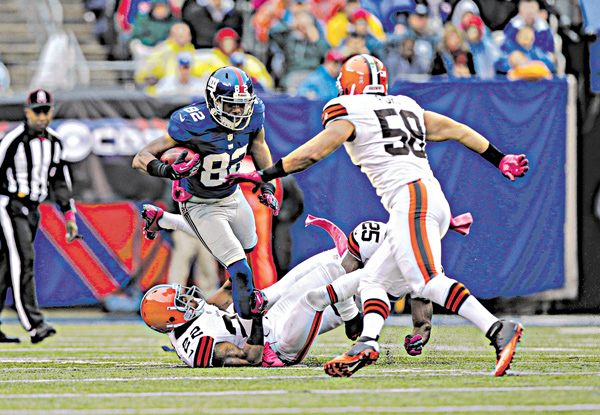 Photo
Cleveland Browns defensive back Buster Skrine (22), running back Chris Ogbonnaya (25) and linebacker L.J. Fort try to stop New York Giants wide receiver Rueben Randle (82) as he carries the ball during the first half of an NFL game Sunday in East Rutherford, N.J. The Giants won 41-27.
Associated Press
BEREA
The apology came from Joe Haden's heart. He knows he let down the Browns.
Speaking for the first time since he was suspended four games by the NFL, Haden acknowledged Monday that he tested positive for the stimulant Adderall, leading him to be banned for violating the league's policy on performance- enhancing substances.
Haden, one of Cleveland's best players, apologized to his teammates, coaches and Cleveland's fans for his costly misstep.
"It was just a mistake, just a very dumb mistake," Haden said. "It wasn't in any intent to hurt anybody or hurt the team or hurt anybody in that kind of way. It was just a young man making a decision I shouldn't have made."
Haden's loss was devastating for the Browns, who were 0-1 when he left and 0-5 when he returned. Without Haden, the Browns were missing their top shutdown cornerback and his absence caused a ripple effect across Cleveland's defense, which was gashed for 502 total yards — 243 on the ground — in Sunday's 41-27 loss to the New York Giants.
Haden was not allowed inside the team's facility during his suspension, and the three-year veteran said the time away was torture. He watched games on TV like a fan. It wasn't easy.
"When you see every snap from every angle it's just a whole different look and I didn't like that look at all," Haden said. "I wanted to be playing."
Haden was asked if he thought the league's penalty was excessive.
"God, do I?" he said, standing in front of his locker, penned in by a large group media members. "It's written. It's in there. I should have been more knowing what was going on, but I've definitely served my suspension, everything is up and I honestly just want to move forward and come out here and play."
Haden had appealed his suspension, which was upheld. He did not say if he did so because he had a prescription for Adderall, which is used to treat attention deficit disorder and narcolepsy.
"I appealed it because of the situation where me and my agent [Drew Rosenhaus] had an angle that we were wanting to go at it," he said. "That way that I ended up taking it, that we thought we'd be able to get out of it, but it didn't work."
After arriving for his first day of work in a month, Haden said one of his first stops inside the building was to meet with coach Pat Shurmur, who is under fire as the Browns have lost 11-straight games dating to last season. Haden did not provide any specifics from his conversation with Shurmur, who is 4-17 in two seasons.
"Me and coach, we have a special relationship," Haden said. "We get along really well and I went up there, I definitely apologized to him — I'm not going to get into the extent — and one thing he was really about was 'All right Joe, we can't be upset about this. We have to move forward.'
"I'm telling him I'm sorry and he's trying to give me the game plan. He just wants to get it going."
Haden will move right back into the starting lineup when the Browns (0-5) host the Cincinnati Bengals (3-2) on Sunday.