Carchedi's: A Lowellville fixture regardless of river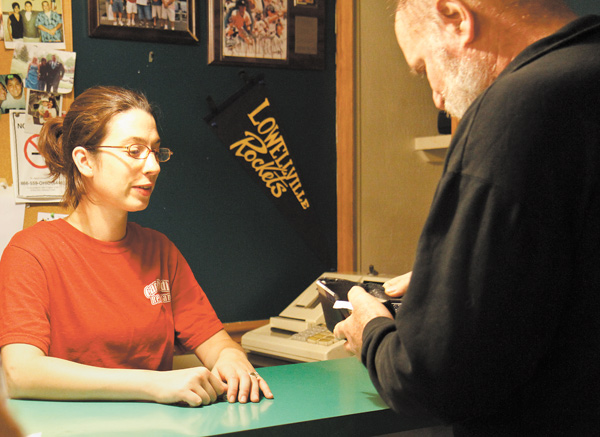 Photo
Amanda Frorohman rings out Robert Schall at Carchedi's Restaurant in Lowellville. Carchedi's, on Water Street along the Mahoning River, is one of several businesses in the village that stand to benefit if the river is cleaned up.
By Jeanne Starmack
lowellville
At the end of sleepy little Water Street in Lowellville, one spot was clearly attracting a crowd.
Several cars were parked in front of Carchedi's, a family-owned restaurant that's been in business since owner Kim Iudiciani's grandfather, Joe Carchedi, opened it in 1963.
In the dining room, patrons were enjoying the familiar Italian dishes, while in the kitchen, Iudiciani stood in front of a giant pot of red sauce, stirring it as she talked.
She's proud of the restaurant, a village fixture and tradition that will celebrate its 50th anniversary next November.
"Everybody's like, 'Yeah, Lowellville' — we're noted for the [annual Mount Carmel Society] festival and Carchedi's restaurant," she said.
She doubts she would change anything about the restaurant, even if a plan to clean up the Mahoning River, in which the village council is participating, comes to fruition.
Would she even build an addition to accommodate the tourists a clean river could bring, along with an estimated $30 million-a-year boost for Lowellville and the other river towns in Mahoning and Trumbull counties?
"I wouldn't change anything, because we're such a landmark," she said.
But she would like to see some growth in Lowellville — a grocery store, gift shops and more restaurants.
At one time, the village had a grocery store, bowling alley and ice-cream parlor, she said. She's heard the stories from her grandfather about how it used to be while the mills were booming.
"It would be great if they cleaned up the river," she said. "Bring some cool stuff back!"
Unfortunately, those booming mills and other industry along the Mahoning River made it what it is today — polluted.
The Ohio Department of Health has issued a consumption-limit advisory for five species of fish in the river from Warren through Niles, McDonald, Girard, Youngstown, Campbell, Struthers and Lowellville to the state line. Catfish, carp, large- and small-mouth bass, and walleye are contaminated by PCBs.
The department also advises people not to come into contact with the sediment along that part of the river.
But a recently formed group called Friends of the Mahoning River wants to clean up the river and make it the valuable asset it could be to the Mahoning Valley.
John Kwolek, a group member who is also an environmental specialist for the Ohio Environmental Protection Agency, spoke to the village council in September about how it could help in that quest.
Removing a dam in Lowellville at First Street, along with seven other dams in Struthers, Youngstown, Girard and Warren, would get the river flowing free again.
Removing the dams and contaminated sediment at the dam sites would benefit habitats for fish and aquatic insects upstream, Kwolek said.
The village council passed a resolution to submit an application for an Ohio EPA Water Resource Restoration Sponsor Program grant to remove the dam at First street and the sediment.
The EPA makes millions of dollars available each year through the program for projects that either restore or protect water resources, according to information provided by its spokesman Mike Settles.
Lowellville's application is being prepared by the engineering firm MS Consultants, said Lowellville Mayor Jim Iudiciani. The deadline for its submittal is Nov. 8.
"It's a win-win situation," Iudiciani said. " A $3.5 million grant that could help bring people to the village."