Buckeyes not shy about poll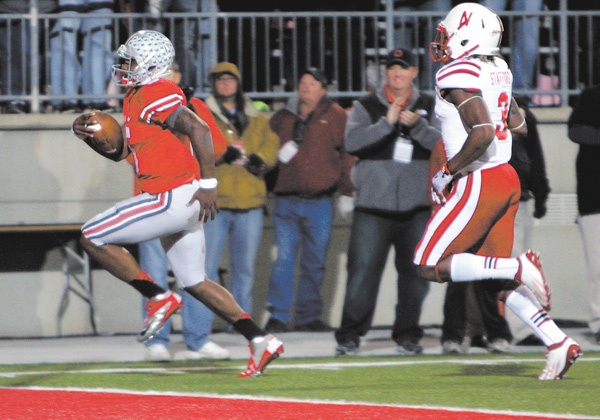 Photo
Ohio State quarterback Braxton Miller, left, scores a touchdown against Nebraska safety Daimion Staff ord during the second quarter of an NCAA game Saturday in Columbus. The Buckeyes won 63-38.
Associated Press
COLUMBUS
Almost every major-college coach says he doesn't care about the polls, for fear others will think his team will be distracted.
"Not this coach," Ohio State's Urban Meyer said.
With Ohio State banned from playing in a bowl, banished from the Bowl Championship Series picture or even being listed in the coaches' poll due to NCAA sanctions, the Associated Press Top 25 offers a bit of incentive for a team with limited time to prove itself.
So, each week when Meyer meets with his players, they discuss the media poll, how far the Buckeyes have come and where they have yet to go.
"The thing is, they're going to talk about it when they go home, when they walk to class," Meyer said on Monday. "Why not [discuss], 'Here's really where we're at'?"
Meyer knows that his players follow the game. They know who the best teams are, who's rising and falling, who the national contenders are. Why not bring it out in the open?
"These players are just playing football, and they have a right to know where they stand on a national level," he said.
Nowadays, the Buckeyes have a lot to talk about. In the preseason, they were ranked 18th. They bounced around during an up-and-down non-conference portion of their schedule, going to 14th and 12th, then up to 16th, before climbing to No. 14, No. 12 and, this week, No. 8 in the media poll.
The Buckeyes will have made their biggest jumps, naturally, since knocking off ranked teams the past two weeks. They edged No. 20 Michigan State 17-16 on the road two weeks ago before battering No. 21 Nebraska 63-38 on Saturday.
It'll be difficult to make up any more ground on top-ranked Alabama and the rest over the next four games unless there are a substantial number of upsets, because the Buckeyes play four consecutive unranked teams over the next month (at Indiana on Saturday, Purdue at home, at Penn State and Illinois at home).
During his 10-year tenure at Ohio State, former coach Jim Tressel disavowed any knowledge of the polls — even the BCS rankings, which determine the teams in the national championship game. At the same time, almost all of his players knew precisely where they were ranked, who was ahead and who was behind them.
"I definitely think it's important to us," center Corey Linsley (Boardman) said. "Like Coach Meyer says, 'If you don't think that statistics are important, you're kind of lying.' It's what we play for. We play for these polls, we play to be No. 1 in the country, for there to be no doubt."
Because of NCAA transgressions during the Tressel regime, Ohio State is on NCAA probation and is banned from playing in a bowl after the season. Still, the Buckeyes remain in the race to capture the AP poll — which is based simply on the top teams in the country, regardless of their status with the NCAA.
The Big Ten has already determined that Ohio State is eligible to win a Leaders Division title and the trophy that goes with it. Should everybody else in the nation lose at least one game, and the Buckeyes were to go 12-0, they could also steal the AP's national championship trophy.
There is some precedent for such a run. Auburn was on NCAA probation in 1993 but went 11-0 and the Terry Bowden-coached Tigers finished fourth in the final AP rankings despite staying at home during the postseason.
"The players have to believe that it's doable," said Bowden, now the head coach at the University of Akron. "I remember we had won [six] games and we played No. 4 Florida and beat 'em. It was a big win for us. At that point, those kids said, 'Let's take 'em one at a time. Let's show 'em what we can do.'"