Bluejays eye return to regional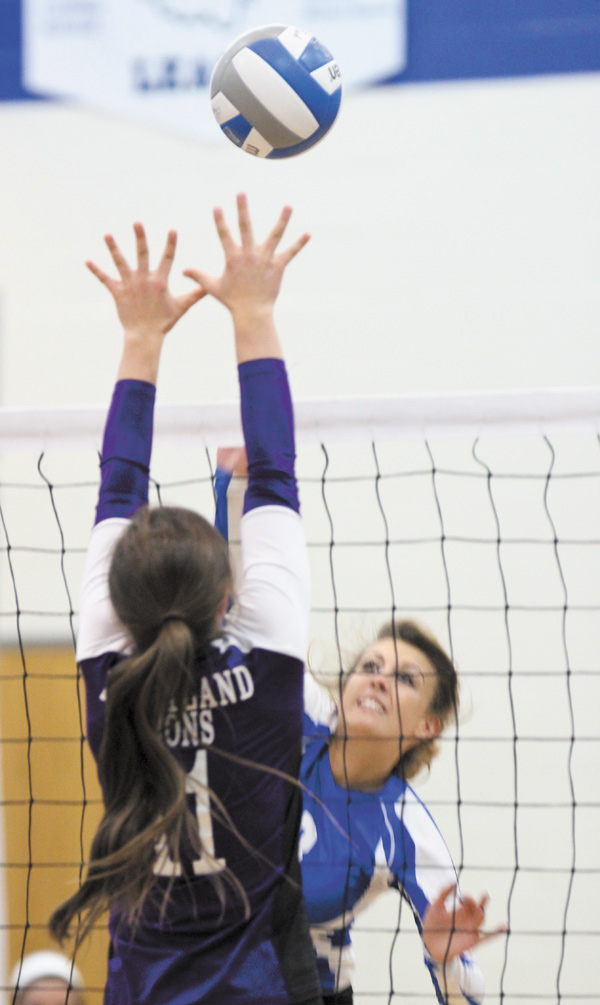 ---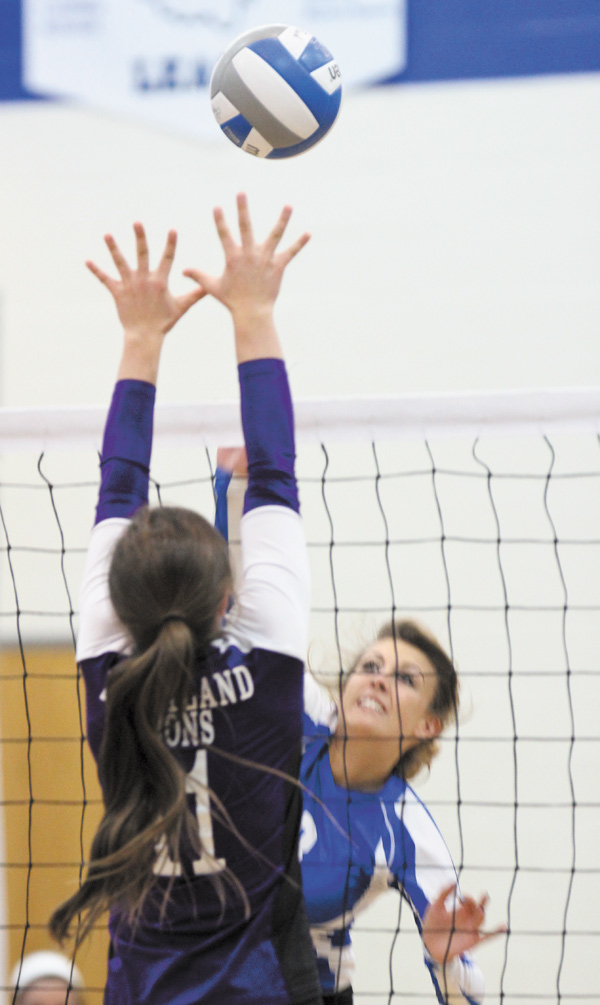 Photo
Jackson-Milton senior volleyball player Rachael Obradovich, right, sends the ball over the net as Heartland Christian's Kristin Osborn prepares to defend in Monday's match in North Jackson.
By Brandon Judeh
North Jackson
When entering the Jackson-Milton high school gymnasium, the first thing many notice are the banners that line the walls.
Plenty of sectional and district championships stand out, but there is one above the rest. That is the 1989 volleyball state runner-up banner, which is the only team in school history to make it to state.
This has served as motivation for almost every BlueJays team in the past 23 years, but it means even more to the volleyball team.
"We definitely get motivated when looking at the 1989 team, it's a good goal for us to strive for and it's possible for us to achieve," junior Erica Hughes said.
Going to state would be even more special for senior Rachael Obradovich, who's mom played on the 1989 team.
Growing up, Obradovich dreamed of following in her mother's footsteps and making school history.
"My mom, Tiffany Foster Obradovich, has shared many memories of that season with me," Obradovich said. "Her best memory was as the bus was driving the team off to state, the entire school was outside cheering them on as they drove away and I want that to happen to us."
Head coach Sue Prozy has a tradition of having the girls climb a ladder before sectionals to touch the state banner for good luck; the girls again do it for districts and beyond.
"We always touch that banner before we leave the gym for the tournaments, it's a good luck charm and has become a tradition here," Prozy said.
This season, the Bluejays are 17-2 overall and 12-0 in the Inter Tri-County League Tier One. Their success is not a surprise.
Last season, the Bluejays came out of nowhere to win the Division IV district title, but came upshort in the regional semifinals, something that has left a bitter taste in Paije Kiraly's mouth.
"For us seniors this is it, this is our last shot and I feel like it's our time," Kiraly said. "Last year, we gained our experience, now it's time to take the next step."
At the start of each season, Prozy has her players write down all of their goals in the locker room. This year the team came up with many goals — everything from dancing on the court, winning ITCL and beating rival Western Reserve.
"The list is long and interesting, but it's a tradition here to make a list of goals and work up the ladder," Hughes said.
All three girls agree that the BlueJays are often overlooked for other bigger schools, but this is something that does not bother them.
"When we go home at night and watch the news, we always see other teams being covered, but rarely us," Obradovich said. "We know we are as good as these teams, but we need to go out and keep working hard."
Kiraly agrees.
"We do get overlooked, but I think it's an advantage, we kind of fly under the radar," Kiraly said.
Jackson-Milton could be on its way to a return to the regional. Monday, the Bluejays defeated Heartland Christian and Lordstown.
Jackson-Milton defeated Heartland Christian by scores of 21-25, 25-20, 25-20. Against Lordstown, Jackson-Milton won, 25-12, 25-20.
Hughes led the way against Lordstown with 12 kills, which leaves her 10 short of 1,000 for her career.