St. Patrick's 'Sunday Sauce and Song' events have begun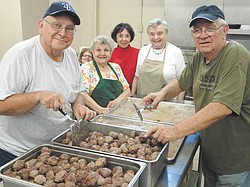 Photo
In preparation for St. Patrick Church spaghetti dinners, "the holy rollers" prepare meatballs. From left are Tom Price, Bernadette Nickelson, Ann Lawson, Carlotta Kane, Alice Noga and Ed Kocur.
Staff report
YOUNGSTOWN
A 20-year tradition continues at St. Patrick Church, 1420 Oak Hill Ave.
The first spaghetti dinner of the season took place from 11:30 a.m. to 4 p.m. Sunday featuring sauce made from tomatoes harvested in the community garden adjacent to the church on a two-acre tract. The parish is involved in the project.
The church sponsors the "Sunday Sauce and Songs" events from October through May. None is held in January or the summer months.
The spaghetti dinner crew begins working on the event the Thursday before the dinner with "the holy rollers" gathering to make sauce and meatballs. Homemade white wine gives the sauce that extra layer of taste.
Parishioner Ann Lawson, who has been in the restaurant and catering business for years, said her sauce recipe has "a little bit of this and a little bit of that." Her recipe is in her mind and the legendary sauce draws people from all over the Valley.
Lawson's homemade garlic breadsticks and brownies also add to the meal.
Free concerts from 2 to 3 p.m. are an added musical bonus. Dinner patrons and others are invited to attend. James McClellan entertained at the first event.
The schedule is:
Nov. 4 with Howard Howell, "An Afternoon of Jazz;" Dec. 2, Seraphim Chorus, "A Little Child Shall Lead Them;" Feb. 3, 2013, Susan Shafer, "Songs of Love;" March 3, Morning Star, " God, Jesus and the Holy Spirit;" April 7, Kris Harper and Friends, "Songs from the Heart;" and May 5, Colleen McNally Harris and Kirk Kupensky, Celtic vocalist and harpist, "Celtic Grace and Celtic Dreams."
For information, call the church office at 330-743-1109 or visit the website at www.StPatsYoungstown.com.