Sherrod Brown: the clear choice in Ohio's U.S. Senate race
Election 2012: Sherrod Brown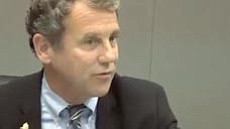 Video
Democratic Candidate for U.S. Senate
Election 2012: Josh Mandel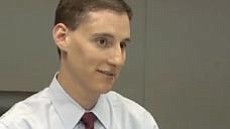 Video
Republican Candidate for the U.S. Senate
Some candidates run as "outsid- ers" because they are just that — or even a little bit of that. And other candidates run as outsiders and claim to be something other than they are because they've calculated that voters like to think they're voting for anyone but a "career politician."
These imaginary outsiders will say whatever they think the voters want to hear. If there were a dictionary entry for such political mendacity, it could carry the picture of Josh Mandel, Ohio's current treasurer and the Republican nominee for U.S. Senate.
Mandel is an outsider only to the extent that since becoming the state's treasurer in January 2011, he has spent much of his time outside Ohio, raising millions of dollars in special interest money for his run against U.S. Sen. Sherrod Brown.
Brown, a Democrat, is seeking his second six-year term in the Senate. He is running on his track record, and while some may not like much of that record, he has one. And he is more than able and willing to defend it, even against his harshest critics.
Mandel served two years on Lyndhurst City Council and a term and a half as state representative from the 17th District before being swept into office in the GOP rout of 2010. He barely had his name on the door before he started putting together his senatorial campaign.
Despite the challenges and distractions of taking on a new job while simultaneously seeking a step up, Mandel is proud of his 21 months in office. He points to what he says is his record as state treasurer: generating a $2 million surplus by cutting costs in his office, protecting Ohio's credit rating, improving the yield for local governments that invest in the treasurer's STAR Plus program and saving the state $7.9 million in debt service through refinancing.
He has the makings of a respectable record, and we'd say he should be given the opportunity to prove what he can do by serving the four-year term to which Ohio voters elected him. It's just possible that after a full term, Mandel's absenteeism and the cronyism he practiced in filling some of the highest jobs in the treasurer's office will catch up with him. Or perhaps he is a wunderkind. There's only one way to find out.
And while Mandel is serving out his term as treasurer, Ohio voters should send Sherrod Brown back to Washington for a second term.
Insight from interviews
Vindicator editors conducted separate interviews with Brown and Mandel that lasted nearly an hour each. Space prevents us from a full recounting here, but one question and how the candidate chose to answer gives a decisive insight. Brown was asked to defend his vote for the Affordable Care Act — Obamacare in today's shorthand.
He didn't flinch. He pointed out that senior citizens are already getting preventative care and saving money through the closing of the prescription drug "doughnut hole," young adults are able to remain on their parents' health plan, a high-risk pool is being created for pre-existing conditions and insurance companies must show that they are spending at least 80 percent of what they take in on patient care. "I'm not running away from my vote," Brown said, noting that those who have insurance are already footing the bill for those who don't. Obamacare will reduce the numbers of the uninsured.
Mandel was asked about an issue that he has been quite vocal about, the federal bailout of General Motors and Chrysler Corp. In an interview with the Columbus Dispatch, Mandel called Brown's vote for the bailout "un-American." But he refused to answer the simple question: Had he been in the Senate would he have voted for or against the bailout? A yes or no would have sufficed. He would have been welcome to explain his answer at length — had he chosen to answer. We can only wonder if his tortured evasions of the question were as painful for him as they were for the editors.
Mandel seems to think his trump card in this race is claiming that Sherrod Brown is "too liberal" for a state like Ohio. Is Brown liberal? In most matters, no doubt.
But to the extent that liberal means standing firm against China's rapacious trade policies, we can live with Brown's liberalism. To the extent that he has consistently supported General Motors for the jobs it brings to this Valley, we can live with his liberalism. And to the extent that he recognizes that while the budget must be balanced, it shouldn't be on the backs of Medicare recipients, we can live with his liberalism.
Josh Mandel may yet evolve into a thoughtful politician who earns the respect of the electorate. But he's not there yet.
One of the last things he said during his Vindicator interview was a claim that he has Democrats and independents supporting him, while Brown has only partisans. That's an insight into Mandel's view of politics. It's a view that may play well in some quarters, but there is already enough of such nonsense in the U.S. Senate. Sending Mandel there would be a mistake.
The Vindicator endorses the re-election of Sen. Sherrod Brown.
More like this from vindy.com