---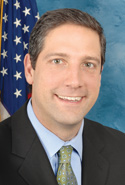 Photo
YOUNGSTOWN
If U.S. Rep. Tim Ryan is re-elected, he plans to reclaim the House Appropriations Committee seat he lost nearly two years ago when Republicans took control of the legislative body.
Republicans reduced the number of Democrats on Appropriations from 37 to 21 in January 2011 after gaining majority control of the House. Seats on the committee are based on seniority, and Ryan was the 23rd-most senior Democrat on it.
At least four Democrats on the committee are either retiring or lost primaries this year, Ryan said. That means Ryan can get back on appropriations if he beats Republican Marisha Agana in the Nov. 6 general election.
Ryan, of Niles, said he would return to appropriations.
The committee is considered one of the most powerful in the House as it oversees close to $1 trillion in spending bills, and its members often are able to steer millions of dollars into their districts.
But that ability to provide money to districts was reduced when Republicans banned earmarks in January 2011. Some House Republicans are looking to lift the ban.
"You're still on the committee that spends all of the government's money and allocates that money," Ryan said in response to questions by The Vindicator about returning to Appropriations. "There's still a lot of money that goes out, even under tight budgets."
With a return to Appropriations, and U.S. Sen. Sherrod Brown, a Democrat from Avon who is seeking re-election, on the Senate Appropriations Committee, the two of them "could get a lot done together" for the Mahoning Valley, Ryan said. "I'm hoping the environment gets to the point where we can still get some things done."
Ryan specifically mentioned the potential for additional federal funding for the National Additive Manufacturing Innovation Institute, a $70 million advanced manufacturing project with its headquarters at 236 W. Boardman St., downtown. The federal government is providing $30 million for the program, with the rest coming from public and private entities in Ohio, Pennsylvania and West Virginia.
"That's the kind of program that can and will, I believe, transform the entire area, the entire region," Ryan said. "So, making sure we continue to fund that program, maybe expand that program from the Appropriations Committee" is important.
Because of the power of Appropriations, members cannot hold seats on other House committees.
Ryan said he would resign from the House Budget Committee and the House Armed Services Committee to return to Appropriations.
Also, Ryan is looking at the possibility of running for governor in 2014, though no decision has been made.
"We're not ruling it out," he said.
Ryan has represented the 17th Congressional District since January 2003. The district becomes the 13th after this election. While the new district's boundaries are a little different, it still consists of much of Mahoning and Trumbull counties.