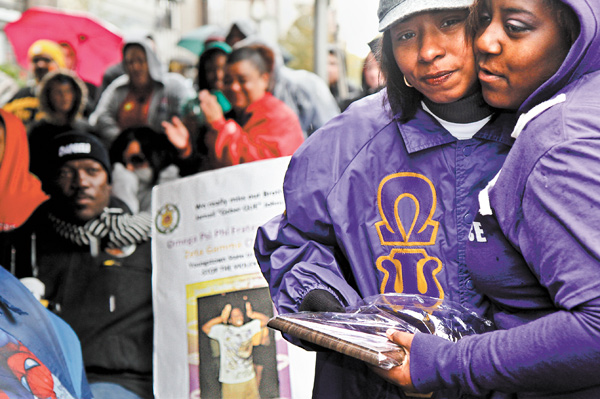 ---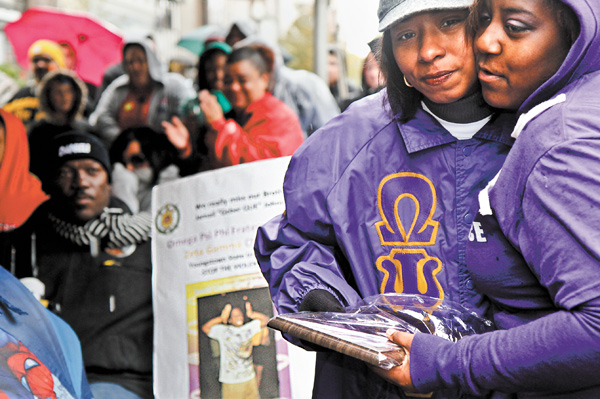 Photo
Janae Ward, of Akron, right, awards Shirlene Hill a plaque for best banner during Sunday's Nonviolence Parade and Rally in downtown Youngstown. Hill was representing her son, Jamail Johnson, a Youngstown State University student who was killed when gunfire broke out at an off-campus party in February 2011. Hundreds attended the march and rally in cold and rainy conditions Sunday.
YOUNGSTOWN
In April, Shannon Sharp took a journey. She was part of Mahoning Valley Sojourn to the Past, a 10-day, five-state trip to historic sites of the civil-rights movement in the South during which students study the principle of nonviolence and create an action plan to bring home.
"I learned not to be a silent witness and to speak up," she said.
Sharp, now a senior at East High School, spoke clearly Sunday afternoon as she served as emcee of the second annual Nonviolence Parade and Rally that drew hundreds to downtown Youngstown.
The Nonviolence Parade and Rally was sponsored by Mahoning Valley Sojourn to the Past, the Youngstown city schools, the city of Youngstown, the Office of Equal Opportunity and Diversity at Youngstown State University and ACTION.
"We hope this will make people focus on nonviolence," Sharp said before introducing local leaders.
Youngstown Councilwoman Annie Gillam, 1st Ward, urged those at the rally to continue to promote nonviolence in their neighborhoods.
"You can't wait for your public officials and ministers to do it for you," Gillam said.
City council, YSU trustees, the city school board and the Mahoning County commissioners all have formally recognized the first full week of October as Nonviolence Week.
State Sen. Joe Schiavoni of Boardman, D-33rd, said he wants to see Nonviolence Week recognized statewide.
"Act on your feelings," he said. "All of you care about each other. ...If you continue to love one another and help one another, we'll be OK."
Cary Dabney, a YSU student and member of Sigma Chi fraternity, mourned the loss of his fraternity brother, Jamail Johnson, who was killed when gunfire erupted at an off-campus party in February 2011.
"The students at YSU no longer turn a blind eye to violence. ...We know the city is our city," Dabney said.
Jasmine Handy, a member of the Four Square Block Watch brought several youth volunteers from the Lakewood Community Gardens to march in the parade.
"All the kids made the posters out of construction paper, and we put them together for a banner. I told them to put what nonviolence and peace means to them on the poster," she said.
Handy said it was the first time the children, ages 6 to 12, had taken part in the parade. She said it was important for them to see their peers and older teens supporting the principles of nonviolence.
"I wanted the kids to know that even with the negativity around them, they can choose to stand up," she said.
Several awards were given at the end of the rally. Shirlene Hill, Johnson's mother, was honored for best parade banner, United Purpose II won best float, and the 2012 nonviolence trophy went to East High School.
The rally ended with an a capella sing-along of "Let There Be Peace on Earth."