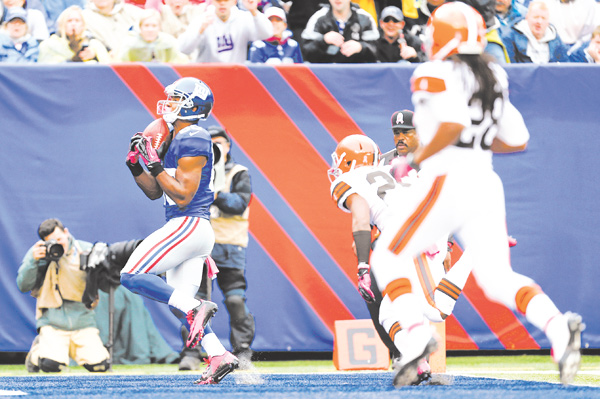 ---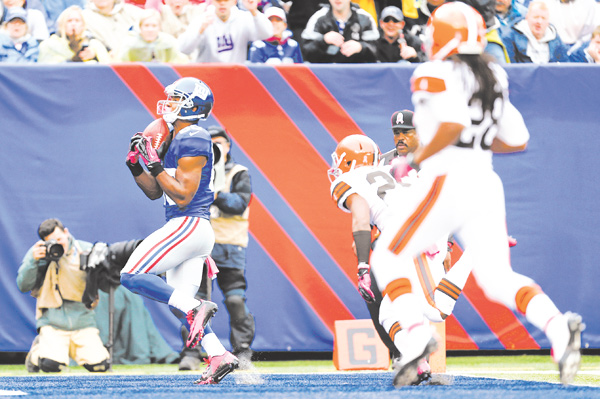 Photo
New York Giants wide receiver Victor Cruz catches a touchdown pass in front of Cleveland Browns cornerback Trevin Wade (26) in the second half of Sunday's NFL game in East Rutherford, N.J. Cruz had a career-best three touchdown catches in the Giants' 41-27 win over the Browns.
Weeden pick saps momentum as Cleveland stays winless
Associated Press
EAST RUTHERFORD, N.J.
The "rookie mistake" excuse is wearing thin for quarterback Brandon Weeden and the winless Cleveland Browns.
Weeden committed a big one Sunday as the Browns fell to 0-5 with a 41-27 loss to the Super Bowl champion New York Giants.
Weeden was sharp for much of the first half, but made a terrible decision on third-and-1 from the Giants 25 with the Browns leading 17-10.
With running back Trent Richardson, another of Cleveland's high-profile rookies, not on the field, Weeden rolled out and forced a pass to Josh Gordon that sailed high, directly to Stevie Brown. The backup safety sped down the left sideline for 46 yards.
"We were trying to get up to the line quick and get a quick little shot to the flat," Weeden said. "They covered it well. I was trying to make a play. It was stupid. That was the one throw I want back."
Browns coach Pat Shurmur did not disagree.
"It's a bad decision and a nice play by the defense," Shurmur said. "I don't care if you're a rookie. I don't care if you've been in the league a long time. You don't do that. I think we've got to get off this rookie kick, and we've got to play ball."
That turnover swung the momentum dramatically in the Giants' favor as they scored a pair of touchdowns and a field goal in the final three minutes of the quarter for a 27-17 lead at the half.
Ahmad Bradshaw and the Giants took it from there.
Bradshaw, who fumbled on the first play from scrimmage to set up a Cleveland touchdown was unstoppable after that, surpassing his yardage on the ground for the season with a career-best 200 yards.
The passing game was there, too. Victor Cruz had a career-best three touchdown catches. Eli Manning hit Cruz for scores of 3, 7 and 28 yards.
Bradshaw added a 4-yard run as he darted inside and outside and frequently broke tackles. Bradshaw's yardage on 30 carries easily beat the 132 he had heading into the game.
The Giants are 9-0 in games he has rushed for 100 yards or more.
New York (3-2) also forced three turnovers, including Chase Blackburn's interception in the end zone in the fourth quarter.
That led to rookie David Wilson's first NFL TD, a 40-yard run.
"It was across the board," Bradshaw said of the rushing effort. "Inside, outside, left or right, the line was doing everything right."
The Browns weren't. They are 0-5 for the first time since their return season to the NFL in 1999 and have lost 11 straight dating back to last season, matching the franchise record.
Their inexperience as the league's youngest team could not be offset by the skills of third overall draft pick Trent Richardson, who ran for a touchdown for the fourth straight game.
And their defense couldn't do anything with Cruz and Bradshaw.
Weeden hit another rookie Josh Gordon on two touchdown passes, but the Browns showed why they are winless with several critical errors in the pivotal second period, leading to 20 points for the Giants.
"We've been starving for turnovers," said Giants coach Tom Coughlin, who tied Bill Parcells for regular-season coaching victories with the franchise at 77.
Bradshaw highlighted his big opening half with his TD run to tie it at 17.
Joshua Cribbs made the next mistake for Cleveland, fumbling the ensuing kickoff. Brown was on the spot again for the recovery, and Cruz caught his second TD pass.
"We started out fast and got an early lead," Shurmur said. "We had a three-minute stretch before the end of the first half that was. 'Wow, you can't do that against a good football team.'"