Fulfilling, rewarding career continues for altruistic dentist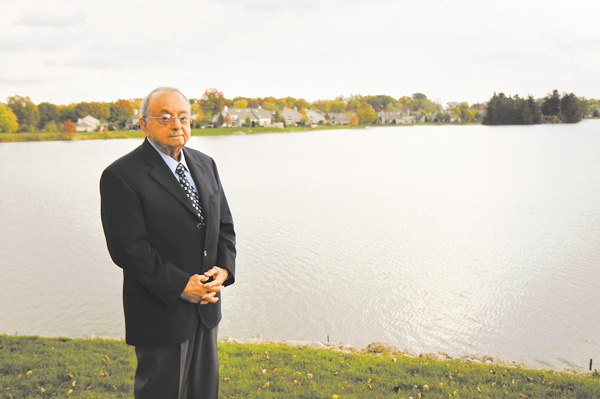 Photo
Philanthropist Dr. Dominic Bitonte stands in front of the lake in the backyard of his home in Columbiana.
COLUMBIANA
Philanthropist Dr. Dominic Bitonte, a recipient of the Ohio Dental Association's Achievement Award, learned the value of hard work and education from his immigrant parents.
The award signifies a commitment to and solid respect for the dental profession and oral health as well as dedication to community service.
His father, Anthony, grew up on a farm, a tiny, rocky piece of land with no running water, on top of a mountain in Busilicata Province on the Ionian Sea in Italy. He came to the United States — with just $18 in his pocket — at a young age to work at Youngstown Sheet & Tube, first in Youngstown and then in Campbell, to make a better life for his family.
He left behind in Italy his wife, Gemma, pregnant with Dr. Bitonte's brother Joseph.
It took Anthony 81/2 years to save enough money to bring his wife and son to Youngstown and put a down payment on a house in the Brier Hill area.
His father could neither read nor write English, but he rose from steel-mill laborer to stationary engineer before retiring at 75.
"That's why he believed in education. If you had an education, my dad thought you were something," said Dr. Bitonte, 88.
And by that definition, the three Bitonte boys and their children and grandchildren became "something."
Drs. Dominic and Robert, graduates of The Ohio State University School of Dentistry (Dr. Dominic in 1947), were partners in the Bitonte and Bitonte dental practice in the Mahoning National Bank Building for 35 years. Robert earned an electrical engineering degree from OSU, and he registered five patents.
Children of Dr. Dominic and his wife, Helen, are all semi-retired physicians: Dr. Gary of Columbiana, Dr. David of Louisville, and Dr. Dianne Milidore of Canfield; and several of his eight grandchildren have attended or are attending medical or dental school.
It wasn't easy for Dr. Bitonte either, who said that as a youth he was a "hustler. The whole family was. We all worked hard."
For 10 years, starting at age 8, he was a carrier/salesman for The Vindicator, winning prizes for signing up new subscribers, including trips to the New York World's Fair and Cedar Point.
"I bought all my own clothes and saved enough to pay for part of my college education," he said.
In addition to dentistry, he involved himself in property development, which was a major factor in enabling him to donate some $3 million, mostly to education.
A 1942 graduate of The Rayen School, Dr. Bitonte said had he not become a dentist, he would have been a builder or developer.
His favorite part of dentistry was interacting with people and doing something for them that, when it was all over, they either felt better or looked better (he did a lot of dentures).
He said he really enjoyed property development. He built 100 units of apartments in Boardman and Canfield and had some properties in Florida.
"I like to create things from the ground up," he said.
Most of his philanthropy has benefited Youngstown State University, which named the Dr. Dominic A. Bitonte and Helen M. Bitonte College of Health and Human Services in the couple's honor.
"Youngstown is where I lived and made my living," said Dr. Bitonte, who is still a member of St. Anthony Church, where he was an altar boy.
Also, the Bitonte brothers established the Bitonte Student Loan Fund at OSU; and the Northeast Ohio Medical University in Rootstown established the Dr. Dominic A. and Helen M. Bitonte Family Foundation Atrium in the Ralph Regula Conference Center in recognition of a generous gift. Dr. Bitonte also recently donated funds for a pre-clinic lab at the OSU dental school in memory of his parents, Anthony and Gemma Bitonte.
The achievement award is given to someone with a personal and professional commitment to the dental profession and the public's oral health, and who is an ambassador for the dental profession with solid respect for the profession.
"Dr. Bitonte has not only fulfilled the highest standards of his profession but has also given back to his community in more than equal measure. He is a tireless professional as well as a dedicated philanthropist. His professional conduct, his leadership strength, his respect for dentistry and his personal ethics are indisputable," Dr. Marybeth Shaffer, president of the local Corydon Palmer Dental Society, said in nominating Dr. Bitonte.
He is affiliated with or a member of several other professional organizations, served on the Ohio State Dental Board, and is a dental examiner for the North East Regional Board.
Dr. Bitonte said it is important to be involved in organized dentistry to ensure the profession remains dedicated to good dentistry and to treating people correctly.
"I believe that dentists should command respect by their actions," he said. "I feel dentists should do things to help the community." He added that dressing well goes a long way toward gaining respect.
Outside of dentistry, Dr. Bitonte has been extremely involved in the community.
He was the founder and first director of the Youngstown/Mahoning Convention and Visitors Bureau, served on the Mahoning County Planning Commission and serves on the Ursuline Sisters Financial Advisory Board. He was a trustee and president of the Youngstown Club for nearly 40 years and was a director of Mahoning National Bank and Mahoning National Bancorp. In 2011, he received the American Heart Association's "Heart of the Community" Award.
"It's a great honor that my peers have selected me" for the ODA Achievement Award, Dr. Bitonte said.
More like this from vindy.com