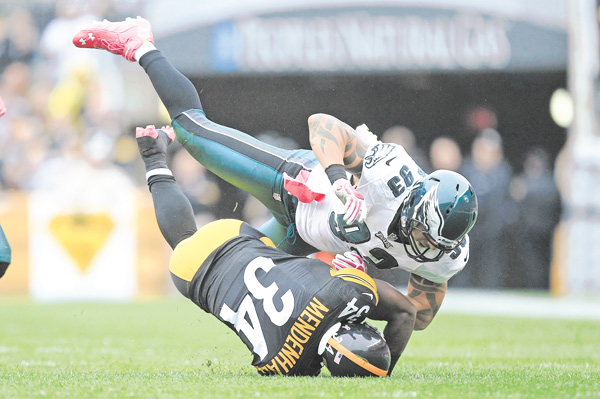 Photo
Philadelphia Eagles DE Jason Babin (93) tumbles over Pittsburgh Steelers RB Rashard Mendenhall (34) as he tackles him after a long run in the first quarter of Sunday's NFL game in Pittsburgh. Mendenhall, making his return from ACL surgery, finished with 81 rushing yards and a score while adding 20 receiving yards. The Steelers edged the Eagles, 16-14 when kicker Shaun Suisham drilled a 34-yard field goal as time expired.
Steelers kicker makes field goal as time expires to beat Philadelphia
Associated Press
PITTSBURGH
Backed up deep in their own territory, their slow start to the season in danger of turning into a legitimate freefall, the Pittsburgh Steelers did what they always seem to do when things get tight.
They relaxed.
Ben Roethlisberger converted a pair of critical third downs during a remarkably patient 64-yard drive over the final 6:33 and Shaun Suisham drilled a 34-yard field goal as time expired to lift the Steelers to a 16-14 victory over the Philadelphia Eagles in the rain on Sunday.
"We had the ball last," Pittsburgh coach Mike Tomlin said. "Such is life."
It's a way of life the Eagles had grown comfortable with during the season's opening month. Philadelphia (3-2) appeared on the verge of its third one-point win of the season when Michael Vick hit Brent Celek for a 2-yard score midway through the fourth quarter.
The Steelers (2-2) started at their own 20 then promptly went backwards thanks to a holding penalty.
No biggie.
Roethlisberger hit Antonio Brown for 20 yards on third-and-12. A 15-yard screen pass to running back Rashard Mendenhall — making his return from surgery to repair a torn ACL in his right knee — moved Pittsburgh into Eagles territory.
Two plays later Roethlisberger found Emmanuel Sanders for an eight-yard gain and five straight runs put the Steelers well within Suisham's range. The kick was good all the way, and the Steelers avoided their first 1-3 start under Tomlin.
"I always have confidence in myself and the guys that we can do it," said Roethlisberger after engineering his 25th career fourth-quarter comeback. "It's good to go down. That was everybody on that drive."
Roethlisberger completed 21 of 37 passes for 207 yards, and Mendenhall finished with 81 rushing yards and a score while adding 20 receiving yards as Pittsburgh's beleaguered running game showed signs of life.
"Our savior is back," Roethlisberger joked. "We've been teasing him all week. It was great to see him out there and he did a great job."
Vick completed 20 of 30 passes for 175 yards and two scores but fumbled twice for the Eagles, who couldn't keep their string of narrow early-season victories going. LeSean McCoy rushed for 53 yards, and caught four passes for 27 yards and a touchdown for Philadelphia.
"This one is going to burn for a minute," Vick said.
The Eagles trailed the whole way but put together a grinding 17-play, 79-yard drive at the start of the final quarter, converting a pair of risky fourth downs, including one deep inside their own territory. McCoy turned both into first downs, twisting for the necessary yardage on fourth-and-inches at the Philadelphia 30 then bulling for two yards on fourth-and-1 at the Pittsburgh 47.
"I don't know how I can say this humble ... we felt like we could drive on them," McCoy said.
Scoring, however, proved to be another matter.