2 city fire stations open doors to public on safety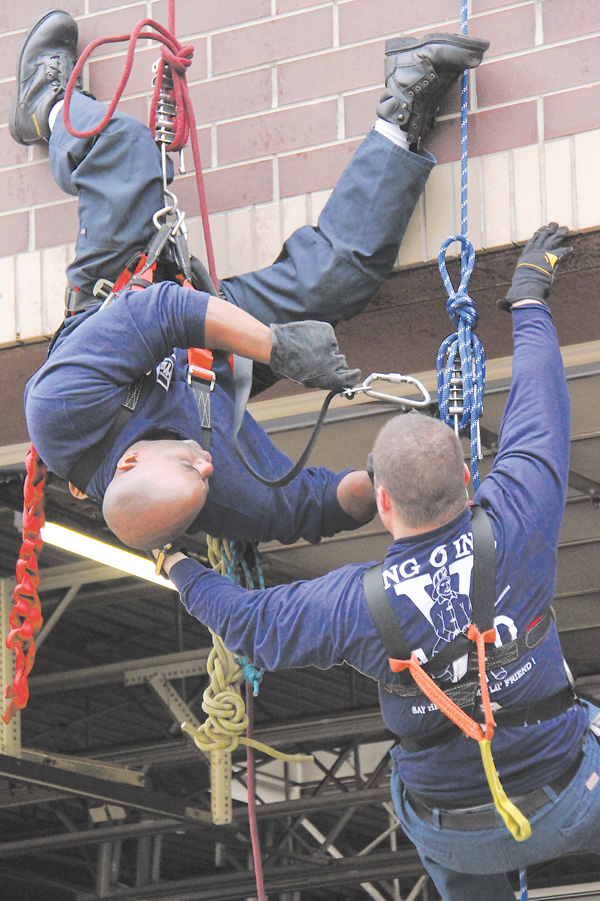 Photo
Youngstown firefighters Capt. Barry Finley, left, and Lt. Jamie Goodlet demonstrate a high-angle rescue Sunday.
By ELISE McKEOWN SKOLNICK
YOUNGSTOWN
The chance to see firetrucks up close and to learn more about fire safety and prevention drew many visitors to the downtown fire station.
As part of fire-prevention month, the fire department opened the doors of two stations Sunday – No. 1 on Martin Luther King Jr. Boulevard and No. 2 on West Indianola Avenue.
Tammie Woods, of Youngstown, took the opportunity to educate her sons on fire safety and what firefighters do on a daily basis.
"I think this is real nice," Woods said about the open house at the downtown station. "And I think that more of the community needs to come out and be aware and get educated about safety procedures."
Her sons, Daniel, 1, and Altemious, 10, were given plastic firefighter helmets and coloring books. They also enjoyed refreshments.
"It's fun that we got a hat and chips, and I'm glad to be with my family," Altemious said.
A firefighter demonstrated sliding down the pole from the upstairs living quarters to the downstairs area where the firetrucks are located.
Lisa Santiago, fire prevention inspector, explained to Altemious that the firefighters live at the station for 24 hours at a time. They sleep, eat, and watch TV upstairs, and when there's a fire, they slide down the pole for quick access to the trucks.
Items retrieved from fires were available for visitors to see. One was a smoke detector, that though blackened and melted beyond recognition, still worked.
"Smoke detectors are always important; they save lives," said Santiago.
Smoke detectors were given away to all visitors at the open house. A fire extinguisher was also raffled off.
Gavin Shirley, 3, of Lordstown, loves firetrucks.
"He watches firemen movies and stuff like that a lot, so we decided to bring him down here today and let him see a real firehouse," his dad, Benjamin Shirley, said.
Gavin liked the firefighter helmet he was given. He said his favorite part of firetrucks are the flashing lights and sirens. He plans to be a firefighter when he grows up.
His mother, Angela Shirley, said it's a good opportunity to educate Gavin and his 1-year-old brother, Quentin, about fire safety.
Both Angela and Benjamin are smokers.
"We always have lighters in the house," Angela said. "So I want [Gavin] to understand fire, so that he doesn't want to play with lighters and start a fire."
Included in the event was an automobile-extrication demonstration that allowed firefighters to show what it takes to remove someone from a car in an emergency.