HAPPY 101st BIRTHDAY Lorene Verdinek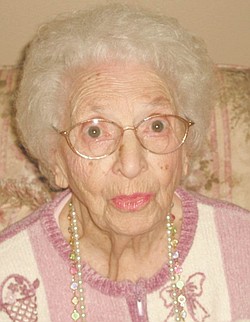 Photo
Date of birth: Aug. 7, 1911, in Weaver, W.Va.
Residence: Marian Living Center at Assumption Village, North Lima.
Parents: Simone Scutti and Maria Antonia Ficocelli Scutti.
Siblings: Angelo, Joseph and Samuel are deceased.
Spouse: William Verdinek, whom she married in August 1938. He is deceased.
Children: Janice (Don) Smaltz, Wilma (Hank) Vukovich and William Jr.
Grandchildren: Five.
Great-grandchildren: 17.
Employment: She was a homemaker and earned a blue ribbon at the Canfield Fair for her crocheting. She loved baking cookies for the holidays and was best known for her pizzelles.
Additional information: She enjoyed dancing with her husband, especially polkas. They spent winters in Las Vegas for several years. She attributes her longevity to hard work and the love of her family. She celebrated her birthday Aug. 7 with family and friends at a party at the center where she resides.