Adrianne Logozzo | Brian Wharry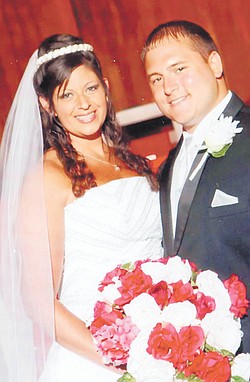 Photo
Adrianne Logozzo and Brian Wharry
LOWELLVILLE
Our Lady of the Holy Rosary Church was the setting at 1:30 p.m. May 26 as Adrianne Lyn Logozzo and Brian Keith Wharry exchanged nuptial vows. The Rev. Nicholas Shori officiated. A reception followed at The Palermo Center in Campbell.
The bride is the daughter of Mariann Logozzo of Lowellville and the late Joseph Logozzo. The parents of the groom are Mr. and Mrs. William Wharry, also of Lowellville.
The bride wore a strapless A-line chiffon gown featured with an asymmetrical draped overlay. Its bodice and skirt were adorned with crystals.
The matron of honor, Lauren Lewis, and maid of honor, Kristen Logozzo, sisters of the bride, wore fuchsia gowns. Bridesmaids were Lindsey Wilson, Gina Trombetti, Katie Rowlands, Juli Peterson, Rebecca Komara, Krissy Meehan and Jessica Bestic. Junior bridesmaid was Kaitlyn Logozzo, cousin of the bride. Flower girls were Carmella Lewis, niece of the bride; and Guilliana Leonard and Ava Pezzulo, cousins of the bride. The attendants wore tangerine gowns.
Billy Wharry, brother of the groom, and Bryan Meehan performed the duties of best men. Groomsmen were Tom Peluso; Joe Flood; Buddy Dorney; Ben Lewis, brother-in-law of the bride; Mike Palumbo; Mike Olive; and Jeff Peterson. Junior groomsman was Nathan Logozzo, cousin of the bride. The ring bearer was William Dailey, cousin of the bride.
The bride, who is retaining her maiden name, received a bachelor's degree in education from Youngstown State University. She is a teacher at Sweet Pea Patch in Edinburg, Pa.
The groom received a bachelor's degree in nursing from YSU and is a nurse coordinator at St. Elizabeth Boardman Health Center.
After a wedding trip to Jamaica, the couple are residing in Lowellville.