Reunion choir at New Bethel Baptist Church to re-record album
By LINDA M. LINONIS
New Bethel Baptist Choir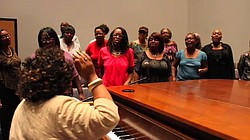 Video
The New Bethel Baptist Church Choir of Youngstown is dedicating a new recording of songs it first recorded in the 1980's to a pastor emeritus.
A reunion choir reminisces with every note as rehearsals take place at New Bethel Baptist Church.
Former youth-choir members will join with current choir members to re-record the album "God Can," out of respect and as a tribute to the Rev. Lonnie A. Simon. He orchestrated the original youth-choir project more than 30 years ago. The live recording will be Oct. 13 at the church.
The 87-year-old pastor emeritus is at Campus Health Care Center in Liberty; he is in ill health. He served New Bethel from 1962-1995. The pastor also is known for his work in civil rights; he was a chanter leader during the 1965 civil rights marches on Montgomery, Ala., with Dr. Martin Luther King Jr.
The Rev. Kenneth Simon and Janet Simon Write, whose parents are the Rev. Mr. Lonnie and Florence Simon, carry on the musical legacy. He succeeded his father as church pastor in 1996, and she is music director.
Both sang in the youth choir and on the album; the Rev. Mr. Kenneth Simon soloed on "Savior Lead Me Lest I Stray."
Marcella Croft of Columbus, who grew up in New Bethel, came up with the re-recording project.
"I thought this tribute would be a good idea."
For Write, the re-recording is a wonderful tribute to her father. "It's an opportunity to reflect on where we came from and gives the younger members a chance to experience what we did."
As for her father's response, Write said, "He is elated, very proud and excited about the project."
The reunion choir brings together singers of diverse ages. The re-recording recalls and reinforces the family-oriented focus of the church, Write said.
Alice Baldwin, about 16 years old when the youth choir recorded the album, said she recalled going to Peppermint Studios on Indianola Avenue. "I remember being excited but tired. We had to keep rehearsing," she said.
Now 52, Baldwin has been a New Bethel member her "whole life." Her favorite track is "God Can" because "it's a message of what He can do. But we have to be patient, He works in His time, not ours."
Darlena Mitchell Allen, about 13 at the time, said she recalled the recording as a "great experience."
That feeling also was voiced by Cherl Ashley, who was 17 at the time. "I think we did it all in one day ... and we were kids," she said. For her, the reunion choir revolves around "the family feeling and hugging."
A New Bethel member since childhood and in the youth choir, Clarice Dowdy was about 16 when the album was recorded. "[Rev. Lonnie Simon] showed us how to reach higher. He always believed in youth and pushed you to the next level of achievement."
Dowdy said she knew the response of the pastor emeritus would be to this new effort. "He would say 'holy,'" she said.
Pianist Karen Fears, whose family has been at the church 50 years, was about 16 when the original album was made. "It's quite an honor," she said of being part of the project. She was a soloist on the first album and is contributing two selections she wrote to the new effort. They are "Don't Tell God" and "In My Song."