Tail-wagging reunion for Pfc. Delvillan and her dog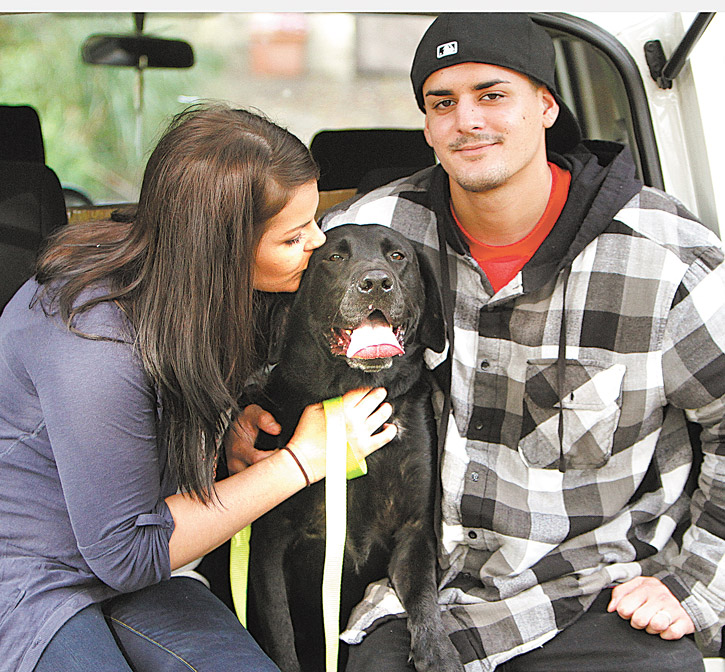 ---
By Denise Dick
NORTH JACKSON
Dog Reunited With Owner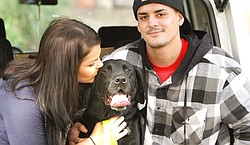 Video
Army Private First Class Michelle Delvillan was reunited with her Labrador Retriever, Beo, after serving in South Korea for a year.
They hadn't seen each other for a year, but just a few seconds after dog and owner met again, it was like they'd never been apart.
After six months in the care of Paula and Dom Carella of Northeast Ohio Labrador Retriever Rescue, Beo was reunited Wednesday morning with his owner, Army Pfc. Michelle Delvillan.
The 80-pound black lab, sporting a yellow Army collar, watched from the Carellas' driveway as Delvillan and her husband, Rob Rodrigues, drove up.
As soon as Delvillan peeked her head out of the car door, Beo knew. Paula Carella dropped the leash and Beo bolted to his owner, his whole body wagging.
He circled Delvillan, greeted Rodrigues and returned to Delvillan before sitting down.
Delvillan served a year in South Korea, working with Patriot missile equipment. Before that, she trained for eight months in Oklahoma. That's where she and Rodrigues met.
She thought about her dog the whole time.
"I had dreams about him," Delvillan.
Wednesday marked the first time Beo and Rodrigues met, but he's heard a lot about the dog.
"She talks about Beo all the time — even on the way here," Rodrigues said. "She was so excited."
Delvillan set her alarm for early Wednesday to drive from her family's home in North Canton to the Carellas' house.
"I popped awake at 2 in the morning — Is it time to get up yet?" she said. "It was like Christmas morning."
Delvillan originally left her dog with a family she knows in Canton, but after several months, that family could no longer keep him. The soldier had to make other arrangements from overseas for her beloved pet.
She was Facebook friends with Paula Carella's organization, emailed her and asked if Paula could care for the dog until she returned stateside. Carella agreed, and the family brought Beo to her home last April. Delvillan kept in touch through email to check on her pet's welfare. She also made a donation to the rescue.
"He's a good dog," Carella said, tears welling as she said goodbye to Beo.
She was happy to help.
During his stay, Beo became one of the leaders of the pack of Carella's pets and adoptable dogs.
He became sort of a jokester too.
When one of the other dogs would go outside through the doggie door, Beo would nip them on the butt, then run and hide before the other dog could back up and retaliate.
Carella has 13 labs and lab mixes available for adoption at her sprawling Gault Road home.
Those dogs may be seen on Petfinder.com.
Delvillan and Rodrigues plan to drive today from Canton to El Paso, Texas, where they'll be stationed at Fort Bliss. Both will continue to work with Patriot equipment.
Rodrigues' service concludes in about 11/2 years, and Delvillan is signed up for two more years. She's considering a nursing career.
First on the agenda when the couple return to Canton with their dog is a game of Frisbee, Delvillan said.
"He could play for hours," she said.