Liberty teacher's efforts lauded
---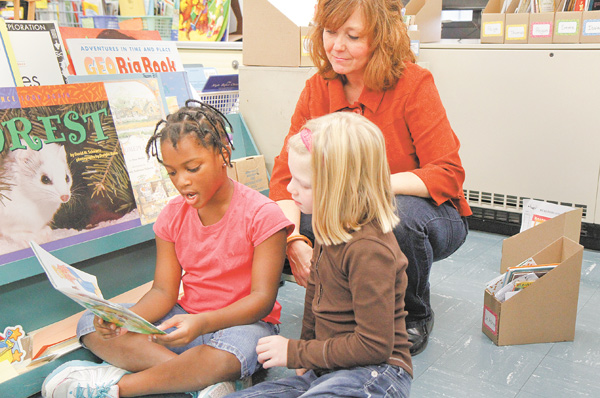 Photo
Deborah Walters, a second-grade teacher at E.J. Blott Elementary School in Liberty, helps DeAshya Jenkins, left, and Olivia Decker read a book. Walters recently was nominated as the Ohio Lottery Partners in Education September Teacher of the Month for the Youngstown region.
By Danny Restivo
LIBERTY
Deborah Walters knows teaching can be difficult.
"You have to entertain and do whatever it takes to get them to learn," said the second-grade teacher at E.J. Blott Elementary.
The 24-year teacher even has a way of making her students behave. If none of her students misbehave for two weeks, she promised she would wear a costume to class.
"Right now, they want me to be a chicken, but we'll see," she said.
Walters said she plays card games to get children to learn math, and "Jeopardy!" to help children learn social studies. Last year, she motivated her class to higher spelling scores by offering a 30-minute dance session. When her class met the goal, Walters said they pushed all the desks against the wall and created a dance floor.
"We had some pretty good dancers in that class," she said. "I couldn't keep up with some of them."
Her techniques have caught the attention of the Ohio Lottery Commission, who nominated her the Ohio Lottery Partners in Education September Teacher of the Month for the Youngstown region.
According to the Ohio Lottery Commission's website, the award recognizes outstanding K-12 teachers and faculty for their excellence in the classroom, leadership, creativity, community involvement and dedication for students.
Although Walters was nominated for the award by a student's parent, its the kids who speak highly of her.
"She likes to do fun projects," said 7-year-old Marc Manning. He said he likes gym class the most, but he also likes to read and learn about science with Mrs. Walters. His fellow classmate, DeAshya Jenkins, shared his interest.
"Mrs. Walters makes stuff fun," said the 7-year-old, who also likes gym class and reading with her teacher.
Walters credits creative lesson planning for her ability to educate while entertaining. She said vying for a child's attention is a challenge that all teachers face. By keeping the lesson plan interesting and creative, she hopes her students can succeed.
Principal Mike Palmer is in his third year at E.J. Blott. He believes Walters' ability to connect with students at various learning stages is a reason she is liked by students and teachers alike. Palmer said her unique lessons are key to her students' achievement.
"She's just very positive and enthusiastic," he said. "She just has a lot of good ideas, and she can make it interesting."
According to its website, the Ohio Lottery Commission paid more than $700 million to Ohio Educational funds. Though Walters said she is flattered by the lottery's recognition, she said its her students that motivate her the most.
"I love the kids more than anything, and I love watching them succeed."