Symphony Ball will bring China Dynasty to DeYor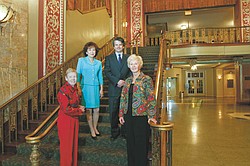 Photo
Those involved in planning this year's Symphony Ball, which will take place Oct. 13, are, from left to right, Patricia Syak, president of the Youngstown Symphony Society; Florence Wang, Symphony Ball committee chairwoman; Randall Craig Fleischer, music director of the symphony; and Beth Bacani, committee member. Photo by: ROBERT K. YOSAY | THE VINDICATOR
YOUNGSTOWN
The 2012 Symphony Ball will embrace the theme China Dynasty when it opens Oct. 13 at the DeYor Performing Arts Center.
Cocktails and a preview of auction items will start the festivities at 7 p.m. Members of the Symphony Ball Committee will wear authentic Chinese costumes as they greet guests.
At 8 p.m., dinner will be served — a blend of traditional and Chinese fare. The Sensations will entertain with music, and valet parking will be available. The attire for the ball is black tie.
The presentation of the Leadership in the Arts Award to Jeanne D. Tyler will highlight the evening. She is being honored for her longstanding support of Mahoning Valley cultural life and especially the Symphony Society. Proceeds from the ball will benefit the education programs of the symphony.
Serving as chairwoman of the Symphony Ball Committee is Florence Wang, who is being assisted by members Beth Bacani, Kelly Becker, Susan Berny, Carole Bertolini, Christine Cavalier, Patricia Cernica, Jude Cernica, Marilyn Chiu, Dr. Y.T. Chiu Jr., Lotis Cooper, Gwen Smith-Darnell, Gloria Detesco, Kathy Dwinnels, Camilla Geordan, Atty. Rebecca Gerson, Annie Gillam, Artis Gillam Sr., Julie Hoover, Dolores Iannucci, Paula Jakubek, Michele Johnson, Paul Johnson, Marcy Komar, Maria Latorre, Deborah Liptak, Dr. Jennifer Lloyd, John MacIntosh, Gloria Mosure, Jackie Motzinger, Sarah Poulton, Nancy Rubino, Joe Rudinec, Linda Sisek, Jackie Stewart and Nancy Williams.
The cost of a patron ticket is $150, and a grand patron ticket and seating for two is $500. Table sponsorships are available. Make checks payable to the Youngstown Symphony Society, 260 W. Federal St., Youngstown OH 44503. For information or reservations call 330-744-1441.