Sisters donate antique firetruck to Austintown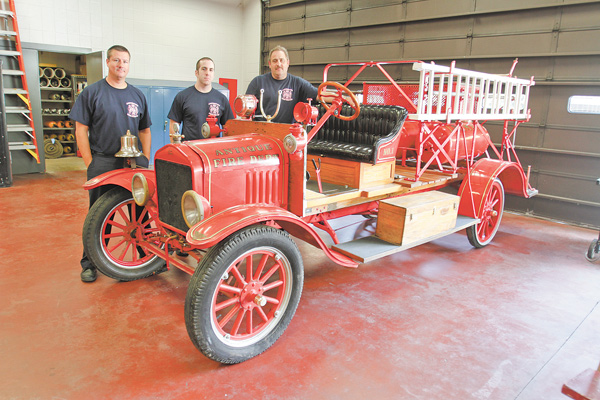 ---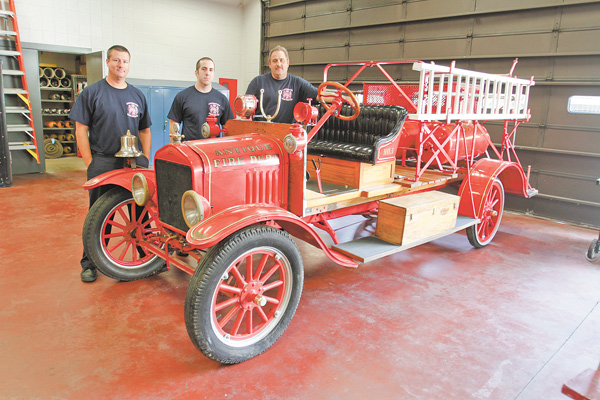 Photo
Austintown firefi ghters Dave Schertzer, left, Brian Griffin and Tom Neff stand by the department's 1917 Ford Model T firetruck. They plan to use the truck in parades and event appearances. The truck was donated to the department by Lisa Callahan and Linda Toth, whose father had owned it for 60 years.
By Elise Franco
Austintown
The newest addition to the township fire department's fleet is 95 years old and hits top speeds of about 20 miles per hour.
Austintown Fire Chief Andy Frost III said the department recently was given a 1917 Ford Model T firetruck by sisters Lisa Callahan of Austintown and Linda Toth of Wilmington, N.C.
The truck first was purchased in 1920 by the Bessemer Fire Department in Pennsylvania, then acquired some time later by Neshannock Township Fire Department, Callahan said. Michael Lehman bought the truck from Neshannock for $50 in the 1950s and did a complete restoration.
Callahan said after their father, Lehman, died in 2010, they didn't know what to do with the truck. It sat in storage until recently when she approached Frost about taking it.
"We have sentimental value attached to it, but the firefighters will appreciate it for what it actually is," she said. "We wanted it to come back to life."
Callahan said the decision to donate the truck was bittersweet for her family. "It was 'Daddy's truck,'" but we know that we made the right decision, and our dad would be very proud of us," she said. "The firemen appreciate it for what it is, and they were thrilled to get it."
Frost said having the truck at the station has been exciting for his guys, who have spent spare hours shining brass all over the vehicle.
"Because it's so old and historical, our guys have jumped in helping to clean and restore it," he said. "It's renewed a lot of interest and been good for morale."
Frost said the truck's body is in good shape, but because it hasn't run in about 25 years, they will need to have the motor and transmission repaired.
"Right now, for as old as it is, it's in very good shape," he said. "We just have to decide if we want to also fix the dents and dings. ... We are thinking of leaving it because it's kind of a cool part of its history."
Frost said the department doesn't have an estimate yet of how much the repairs will cost but plans to do some fundraising. He said the department also is working with Kevin Prus, owner of Prus Engine and Machine in Columbiana, who has offered to donate some services.
"He's one of the leading Model T mechanics in the country, and he's offered to help us get the repairs started," Frost said. "Next year is our department's 75th anniversary, so we'd like to have it done by the first of the year."
Once the truck is running again, Frost said they'll use it for appearances, such as parades or at schools, as well as for firefighters' funerals.
He said the truck already has garnered attention, and he's grateful for Callahan and Toth's generosity. "What they did, giving this to us, is so cool."