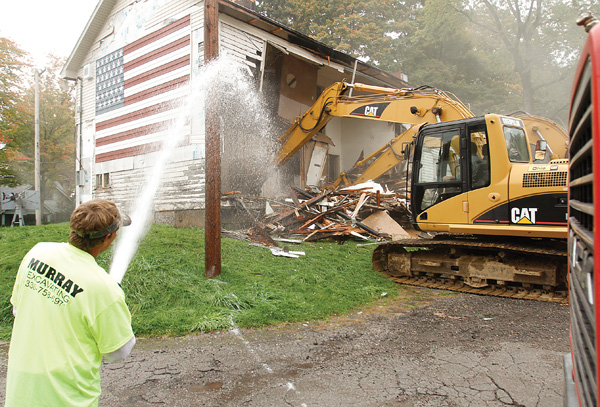 ---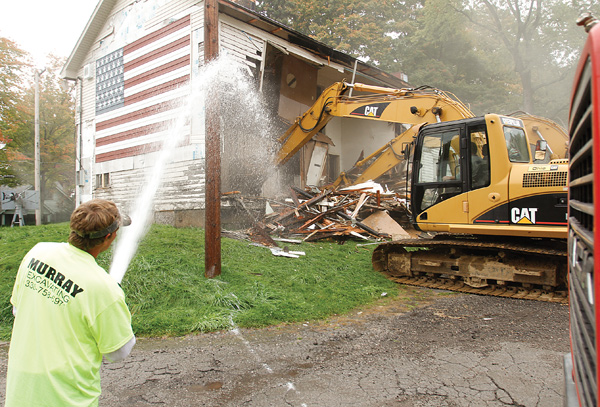 Photo
Scott Benbel sprays water to keep down dust as a mechanical shovel demolishes American Legion Post 472 on East Indianola Avenue in Youngstown. If all goes according to plan, a new, one-story ranch-style building will rise at the same location within 60 days to replace the original, which was built in the late 1800s.
By Sean Barron
YOUNGSTOWN
Bob Raver felt bittersweet as he watched the demise of a building close to his heart, yet he assumed a pragmatic attitude.
"Out of the ashes comes the phoenix," Raver, an Army veteran, said, referring to Tuesday's demolition of the American Legion Post 472 building at 323 E. Indianola Ave. on the South Side. "It will rise."
If all goes according to plan, a new, one-story ranch-style building will go up at the same location within 45 to 60 days to replace the original, which was built in the late 1800s.
Unlike its predecessor, the new 2,500-square-foot American Legion Post 472 structure will be accessible to those with disabilities.
Raver, Post 472's commander who served as a nuclear-weapons technician in the early 1980s, was among those who gathered to watch the two-story building come down and looked forward to its replacement.
"The old building served us well, but sometimes you have to have something new to move forward," he added.
The new building will have a community kitchen, two bedrooms to provide short-term housing for homeless veterans, four bathrooms, a meeting room, an office and bocce courts, noted Donny Murphy, sales manager with Donnell Ford of Boardman.
"It will have a lot of inviting things to bring new members to the legion." he said.
Murphy also is a member of Core 6+, a group of local business people who perform charitable work to bring the community together. One such effort was helping to build a new wheelchair- accessible home for Joe Kaluza, the former KFC manager who was shot in 2008 and paralyzed.
Fellow Core 6+ members are: Sam Pitzulo, owner of Sam Pitzulo Homes of Canfield; John Morvay, owner of American Portfolio; Steve Bott, sales manager with Mark Thomas Ford in Cortland; Tom Paranzino of Bernard Daniels Lumber & Home Center in Canfield; Joe Reinthaler, owner of Cardinal Quick Lube; Andrea Murphy, a homemaker; and Jim Rach, a former business owner from Canfield.
The effort's main goals are to give back to veterans, in part by providing temporary housing and reducing neighborhood blight, Murphy explained.
Also on hand was Bob O'Neill, owner of Youngstown-based O'Neill Concrete Inc., whose company will pour the concrete and have apprentices assist with aspects of outside work.
O'Neill, a Navy veteran who served two years in Vietnam, said he feels a deep connection with fellow veterans and wanted to take part in the building work largely to thank those who served their country.
Also happy to help was Don Crane, president of the Western Reserve Building & Construction Trades Council of Boardman.
The trades council will handle labor donations and offer pipefitters, roofers, bricklayers, electricians and sheet-metal workers, he noted.
Crane said the project is close to his heart because many members of his company are veterans; some also have children who served in Iraq and Afghanistan, he continued.
Murphy said donations needed include labor, food, kitchen equipment, insulation and slag material. To contribute, call Murphy at 330-717-3500, visit www.the-core-six.com,or make checks payable to St. Michael's Parish in Canfield and include "Post 472" on the memo line.