Published: Wed, October 3, 2012 @ 12:00 a.m.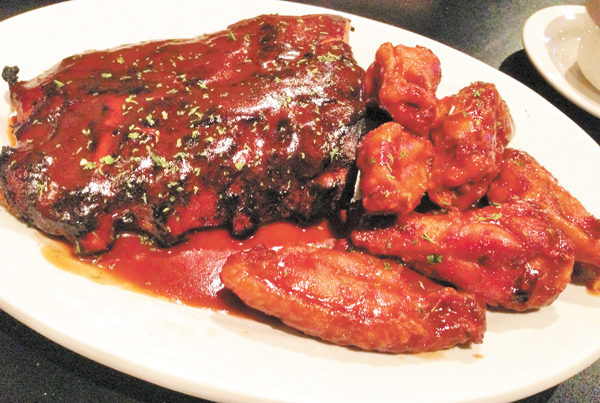 Photo
Mojos BBQ Platter: Pick two with baby back ribs and wings
When You Go...
Where:
Mojos Pub-N-Grill
Location:
6292 Mahoning Ave, Austintown
Hours:
Monday through Thursday, 11 a.m. to 1 a.m.; Friday and Saturday, 11 a.m. to 2:30 a.m.; and Sunday, 11 a.m. to 10 p.m.
Phone: 330-779-0995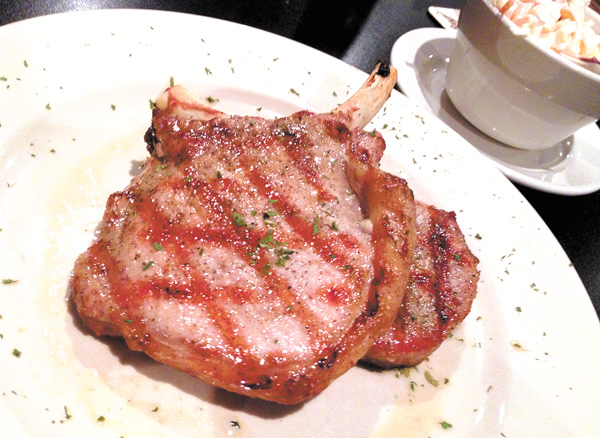 Photo
Mojos Applewood pork chops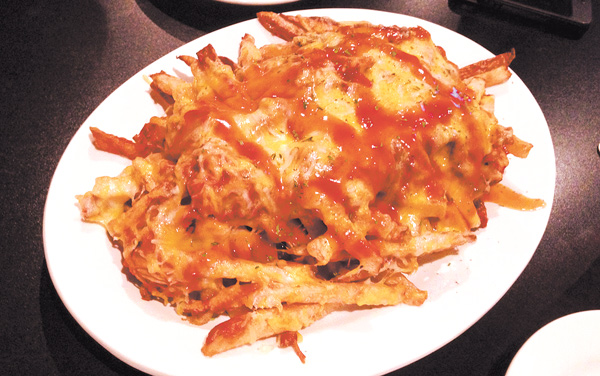 Photo
AUSTINTOWN
This month's Food:30 led me to a place I've never been with someone I never did a food review with. My older brother Matt was my date for this week's tasting. Although he is half my size and not as good-looking, his appetite for good food is about equal. This "bromantic" night led us to Mojos Pub-N-Grill, on Mahoning Avenue in Austintown.
This little restaurant has a nice outside seating area, which won't do you any good in a few weeks, but you can still cozy up inside to vintage posters of legendary musicians. A partly hidden wooden bar creates a nice place to sit and enjoy some fall football with friends while enjoying a few beers. It's secluded enough that if you were in the dining area you can still enjoy a meal with a rowdy game going on.
My brother's amateur experience with a food review showed when he continually asked me what he should get. I had to explain several times that this review thing isn't planned. Get what you want and if it's good, it's good and if not, it's not.
I suppose I have been training for this job for years, but it's always fun to have someone new come with me and get their take on the experience.
For an appetizer I ordered The Hendrix Experience ($9). A nice helping of hand-cut french fries topped with slow-cooked pulled pork and then smothered in cheese and barbecue sauce.
I can always tell hand-cut french fries versus nonhand-cut because they seem to have a better texture. A little firmness on the outside and then a soft center is how french fries should be, especially when they're trying to shine on their own as an appetizer.
The shredded pork had a nice smoky flavor that became more prominent with every bite. The flavor was slow to start, but as my brother noted, every bite left us wanting more, and before we knew it, they were gone.
For dinner I went with something I don't often order, but the Applewood Pork Chops ($17) caught my eye. two center-cut pork chops grilled and topped with an apple bacon sauce. These pork chops had a lot of flavor. The grill marks told me that they were cooked on a high-heat grate that transfers some nice char flavor. A nice dash of salt and pepper mixed with the natural flavors of pork worked wonderfully. Inside they were juicy and still full of flavor even though they were slightly overcooked from my preferred and ordered medium.
My only complaint was that for $17 I would have liked to see a little thicker chop or an additional side. They just didn't seem big enough, and even the apps, a dinner salad and side of coleslaw, didn't quite fill me up.
Matt decided to see if Mojos claim to fame with barbecue could stand up to his test, and he ordered the BBQ Platter: Pick Two ($18). He chose the Baby Back Ribs and the Wings. The ribs fell off the bone and had a nice thick sauce. They also had a nice char crust that indicates an additional flavor profile.
He also enjoyed the wings, and after stealing one from his plate, I could see why. The structure of the wing was similar to the delicious Wolf Wings I had last month, with a crunchy bite and moist center. They were topped with the same barbecue sauce as the ribs, so it was nice to have a different meat to compare with.
Now that we are putting our grills away for the winter, if you find yourself in the mood for a barbecue dinner, Mojo's definitely has a lot to offer that will satisfy your craving.
About Food:30
We are offering a glimpse into local restaurants and eateries, reviewing their food offerings.
Check out our blog on www.vindy.com/news/valleyfood