Cold is hot: NDSU has become powerhouse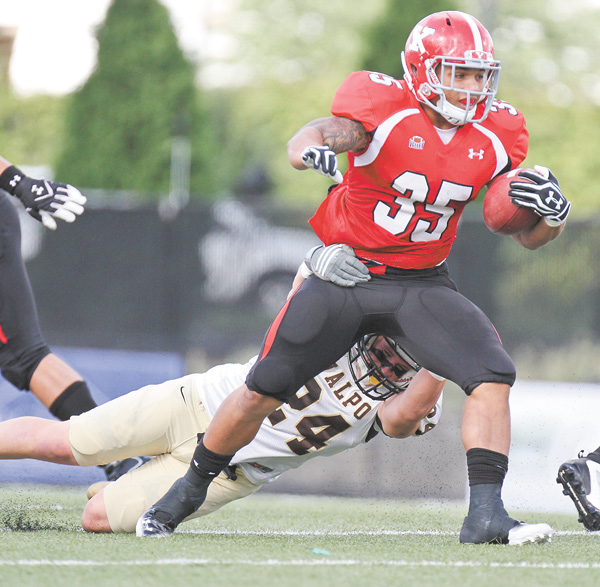 ---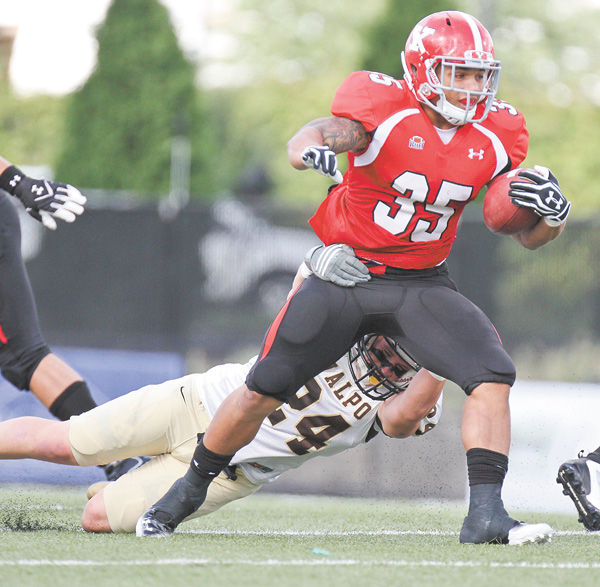 Photo
While YSU's Jamaine Cook (35) admitted he wouldn't have chosen North Dakota State, he said the school's success is a credit to its coaches.
RELATED: NDSU suspends starting halfback
By Joe Scalzo
YOUNGSTOWN
Youngstown State senior Aronde Stanton hails from Detroit and senior Jamaine Cook is from Cleveland and both chose to play college football in a city that, like their hometowns, isn't exactly known as the Miami of the Midwest.
But when asked on Tuesday if they would have considered playing college football in North Dakota, they couldn't help grinning.
"Probably not," Cook said.
"No," Stanton said, laughing. "I guess it depends on the athlete, what they are looking for. Me personally, I honestly never heard of North Dakota State until I came here."
On paper, North Dakota State has no business being a football powerhouse. Its home city, Fargo, is best known for three things:
Long, cold winters.
A 1996 Coen brothers movie in which one of the characters' bodies is fed into a wood chipper.
Long, cold winters.
And yet the Bison won eight Division II football titles from 1965-90 and, after moving up to the FCS level in 2004, won their first FCS national title last season. They've continued that success this season, earning the No. 1 ranking with a 4-0 start that includes wins over FBS member Colorado State and Missouri Valley power Northern Iowa.
"You take your hat off to their coaches," Cook said. "Their coaches have done a great job of recruiting and obviously turning that place into a great winning environment and a great tradition up there."
Like Youngstown State, the Bison play in a college town. Unlike YSU, there aren't many other sporting options nearby. Located on the Minnesota border, Fargo is actually closer to Winnipeg (220 miles) than Minneapolis (235 miles).
Consequently, NDSU is the biggest game in town, which explains why the Bison were able to sell out every home game for the 19,000-seat Fargodome weeks ago.
"It's definitely a great school that you can recruit to," YSU coach Eric Wolford said. "The way I look at it is, they have a college environment. And you have the opportunity to win a championship. I think that's a big thing to kids.
"As you see the big boys go to a playoff system, what happens to all the middle schools and to all the lower-ranked schools? You can't talk about having an opportunity to win a championship. You have to talk about going to the Sunkist Bowl or something like that."
The Sunkist Bowl no longer exists — it's now the Fiesta Bowl — but that hints at NDSU's biggest recruiting disadvantage: Fargo isn't exactly sun-kissed. According to City-Data.com, Fargo has the second-coldest winters of any city in America with at least 50,000 residents. The average temperature is 6.8, just behind Grand Fork (N.D.)'s 5.3.
But the state's booming economy — thanks to the oil and gas industry — is a big selling point, Wolford said.
"That's obviously a thriving area," he said. "A graduate from their school probably has a job lined up because there's basically no unemployment there."
That's probably not enough to sell an Ohioan permanently, but thanks to a 2-0 record at the Fargodome, the Penguins have enjoyed their stay the past few trips.
Whether that continues this weekend remains to be seen, but YSU is staying at the Radisson.
And as "Fargo" character Mike Yanagita said, "Ya know, it's the Radisson, so it's pretty good."