Boardman Boy Scouts use drill to earn badge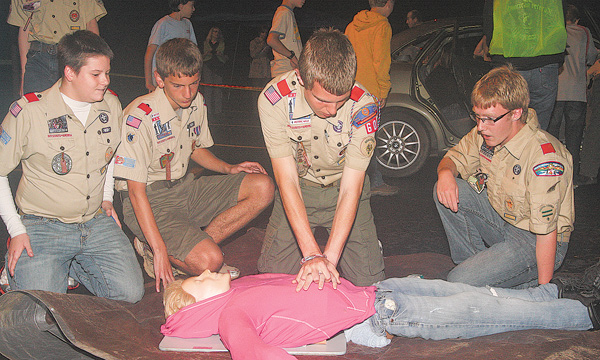 ---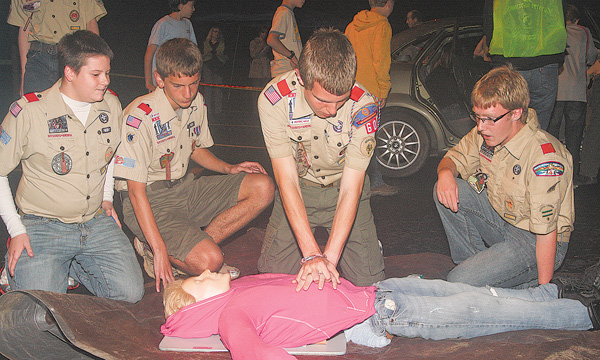 Photo
Members of Boy Scout Troop 60, from left, Nick Leonard, Nick Long and Kevin McNally observe as Quinton Currie performs CPR on a fake injured victim Tuesday. The scouts were participating in an emergency preparedness drill to learn first aid.
BOARDMAN
Twenty-three Boy Scouts rushed to the scene of a two car accident with eight victims Tuesday night in the parking lot of Westminster Presbyterian Church on Stadium Drive.
Two crumpled cars that had passengers inside with injuries ranging from broken bones to loss of consciousness awaited them.
Although the crash looked real as cruiser lights flashed in the background, it was an emergency preparedness drill for members of Boardman Boy Scout Troop 60 to respond and apply first aid.
"We wanted to take it a step above the usual and create as realistic a scene as possible," said Quinton Currier, 15, a Life Scout in the troop who organized the event.
The drill allowed the scouts the opportunity to earn credits toward their next rank, the first-aid merit badge or the emergency-responder merit badge, depending on their needs for scouting advancements.
Currier said it took two months of planning to prepare the drill and many volunteers. The wrecked cars were donated by Watson Towing, and additional supplies were donated by the Boardman Police Department.
Boardman firefighters also volunteered and arrived after scouts provided initial treatment. Firefighters ended the drill by demonstrating how they cut into a vehicle to free occupants. The fire department conducts weekly training and was able to apply this exercise to their curriculum, according to a news release.
Michael DiRienzo and D.J. Stanko, both 14, worked to treat an individual with a broken ankle, and firefighters told them they did well and the "victim" would be alright.
"We treated him for shock and wrapped his ankle. This has prepared us for real life," Stanko said.
DiRienzo said he knew first aid would be a topic of Tuesday's event, but was surprised when he came to the church parking lot.
"I didn't expect all this, but it gives you an idea of how severe and serious you have to be, and that when you're saving people's lives, you have to act fast," DiRienzo said.
DiRienzo's mom, Ruth Mastriana, watched the troop's drill.
"I think it's just amazing. This is my third son who has gone through scouts, and the others did not have the opportunity to be a part of something like this," she said.
Troop 60 is sponsored by Westminster Presbyterian and is led by Scoutmaster Byron Harnishfeger. Senior patrol leader is Matthew Hetzel, a Life Scout who was in charge of the response to the scenario.
Harnishfeger said it was the first time the troop has conducted a drill this realistic. The traditional scenario to earn a first-responder badge is to find and assist someone who got lost on a hike, he said.
"This is a learning experience. In this scenario, they're coming upon an accident and they need to assess the scene to see if it's safe," he said, motioning to a wire that was draped on one of the cars.
The skills learned in scouts have practical implications, Harnishfeger said. He recalled receiving a letter from the mom of a former scout who wrote to thank him and the troop because her son had performed the Heimlich maneuver to prevent her from choking.
"This knowledge stays with you," he said.