McDonald Blue Devils take ITCL team titles
---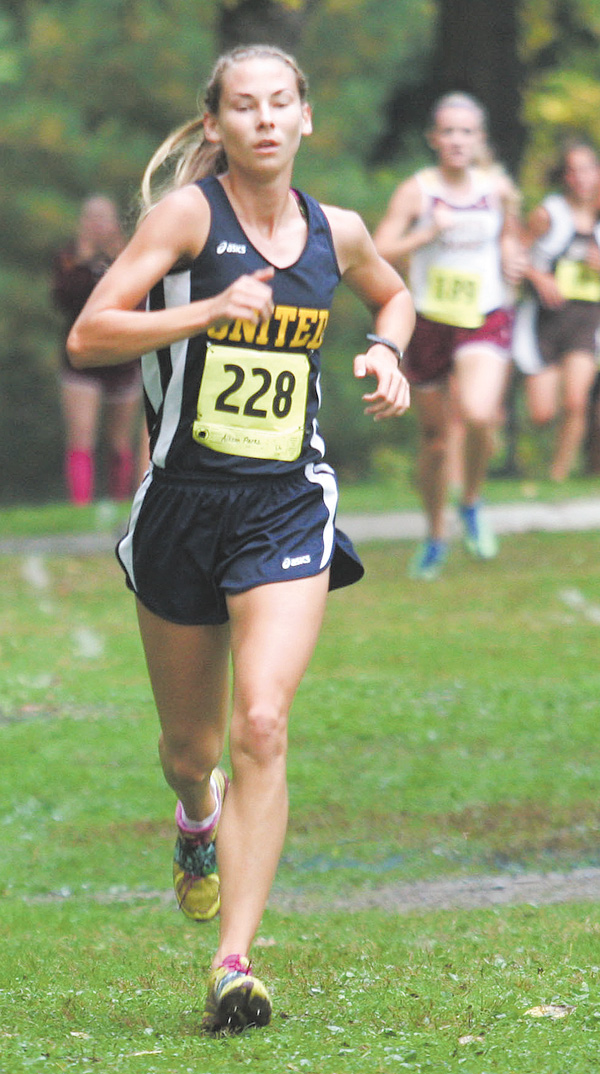 Photo
Allison Parks of United leads the pack in the ITCL girls cross country race Tuesday in McDonald. Parks eventually won the race.
By Greg Gulas
McDONALD
The McDonald boys and girls have made it common practice to win the Inter Tri-County League cross country championships.
You have to go back to 2008 to find the last time they didn't stand together to receive the league's top trophy.
McDonald's boys have had an impressive 15-year stranglehold on the league team title.
The Blue Devils' Patrick Kunkel (16:22) won the individual boys crown to help McDonald — the 15-time defending boys champion — keep the team title. The Blue Devils girls placed six runners in the top 14 finishes en route to their victory.
Kunkel, a senior who also won the junior high title in 2008 and has a top-10 finish to his credit each of the past four years, outdistanced South Range's Tim Nichols (16:38) for top honors.
"All I saw was Tim behind me," Kunkel said. "I didn't even see who was third, so I knew that I had to stay focused. We've been running against each other since seventh-grade and he really runs hard, so that in turn pushes me."
Nichols, who finished runner-up to teammate Ryan Roush last year, has now finished runner-up on three separate occasions in the ITCL meet.
"He was behind me at the start and then kicked it in around the second mile," Nichols said. "I got a little tired at the end but there are no excuses because Patrick is a great runner. He proved that today."
McDonald coach Chris Rupe, architect of four of his school's six state championships and five of their seven runner-up finishes, called Kunkel a special athlete.
SDLqFrom day one as a freshman Patrick was one of our top guys," Rupe said. "He's such a great athlete and we're going to miss him, but I'd rather not talk about his leaving as much as I would like to talk about what he will do for this team over the next few weeks.
"He still wants to break 16 minutes and would love to improve on his personal-best, 11th-place finish at the state, that coming in 2010 when he was a sophomore. As a team we feel we can make another run at the state, which would be our 14th consecutive appearance. The goal that this team set prior to the season was to return to Columbus once again."
United's Allison Parks was the girls overall winner with a time of 20:31, beating Carmen Phillips of Lisbon by 15 seconds for top honors.
"I wasn't happy with my seventh-place finish last season and that was my motivation from last year until this year's competition," Parks said. "In addition to me, Rachel Welsh and Natalie Gamble were the only three that represented United Local last year,"
Phillips, who also finished runner-up at last year's event, called Parks one of the hardest workers around.
"My goal was to do my best and hopefully repeat with a first-team finish," Phillips said. "I had to play catch up and didn't think I would make it, but finished strong so that really pleased me."
Winning girls coach Mike Richards was happy with his team's strong finish.
"I'm happy that we are improving. The last couple of years we tailed off due to injuries but we stayed away from that pretty much this season and thus our strong finish today," Richards said.
South Range boys and girls coach Diane Krumpak noted that her team's theme, "Let's Just Get One More" served as inspiration to both teams all season long.
"I am thrilled with our performance, especially on this course," she said. "This isn't a course where a player will run their best time, but to finish strong heading up Billy Goat Hill and pass other runners heading toward the finish line was most impressive."