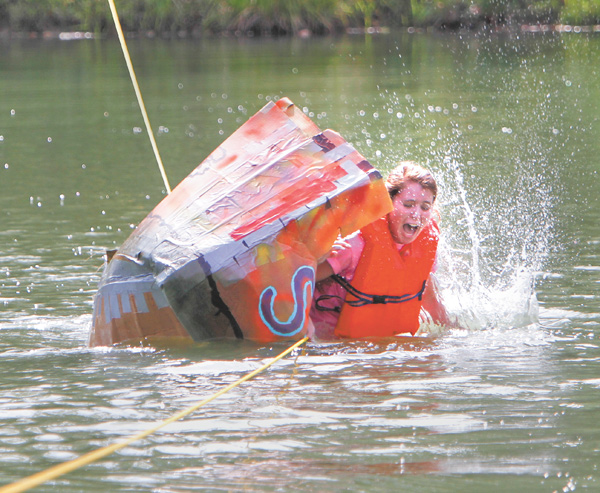 ---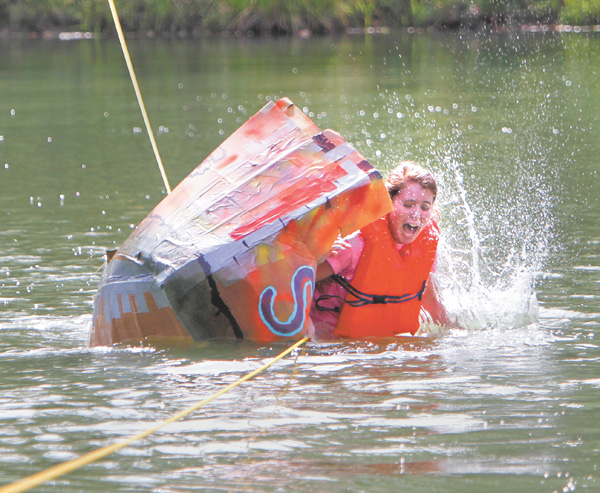 Photo
South Range sophomore Mary Clare McCarthy and her safari-themed team are doing their best to capture the Titanic award for best unintentional sink at the 15th annual Raider Regatta on Monday. The boats were made using cardboard and duct tape.
NORTH LIMA
A safari cruise took a turn for the worse Monday, as the boat carrying five South Range students sank.
Sophomores Gianna Baker, Kendall Lindstrom, Andrea Oliver, Mary Clare McCarthy and Kendall Syms laughed as they dried off on shore, having commanded the first sinking boat at the 15th annual Raider Regatta, in which students piloted homemade watercrafts made of duct tape and cardboard.
"We thought we were going to make it, but it was more fun to sink," Baker said.
Their team was one of 28 competing at Memorial Park, behind the South Range football stadium, as part of an English class project. Two towlines were suspended over the water so students could pull themselves from shore to shore and then return where they started.
Students were required to have a theme for their boat and encouraged to dress in costume to match. Awards for costume, theme, boat design, Titanic and best of show will be announced Thursday.
"It was the first sink of the day and the most entertaining. We had planned to hum taps if we sank," Syms said, adding her team hoped to win the Titanic award, which recognizes the best unintentional sink.
Laura Elder, South Range sophomore English teacher, said students wrote a technical manual for their boats that included memos about developing the boat, news releases and formal letters of invitation to their parents. Students also had to calculate the boat's buoyancy.
"The goal of this is to teach kids how to think outside the box and work collaboratively," she said.
Triangle-shaped designs provide the sturdiest support. A local store saves cardboard rolls from carpet throughout the year so students can use them for the base, Elder said.
"This is what colleges and employers want to see. ... They want to know that [these students] can hold up their end of the deal to complete a project," she said.
Kelsey Phillips, Madison Juillerat, Grace George, Jessica Skripac and Kayla Kogelnik designed a "Fab Five" vessel, named after the U.S. women's Olympic gymnastics team.
As they floated across the water, they had to pull down some of their decorations for easier navigation, but like the Fab Five, they stuck the landing.
"We went a little sideways and we had to ditch the torches and flags, but it was fun," George said.