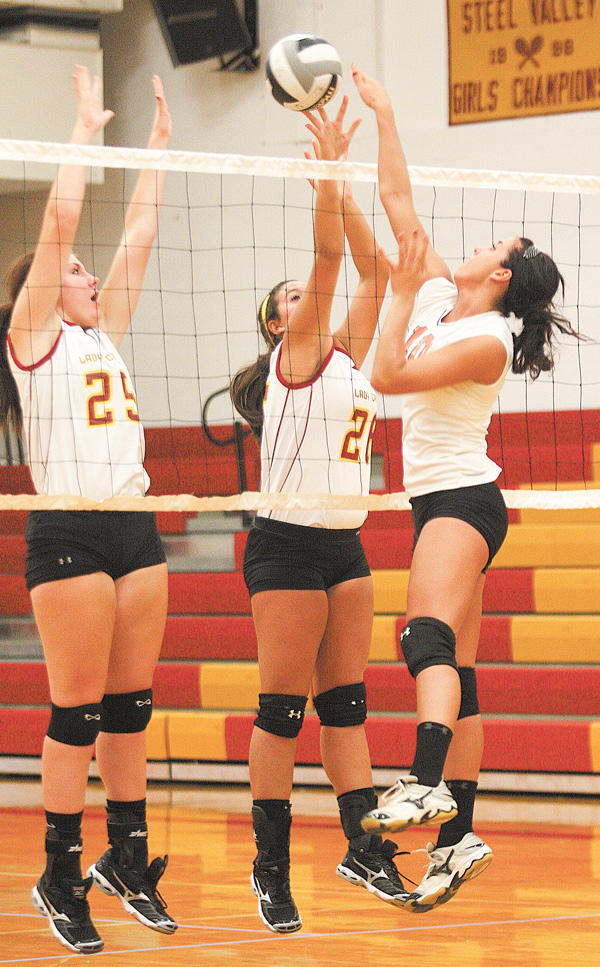 ---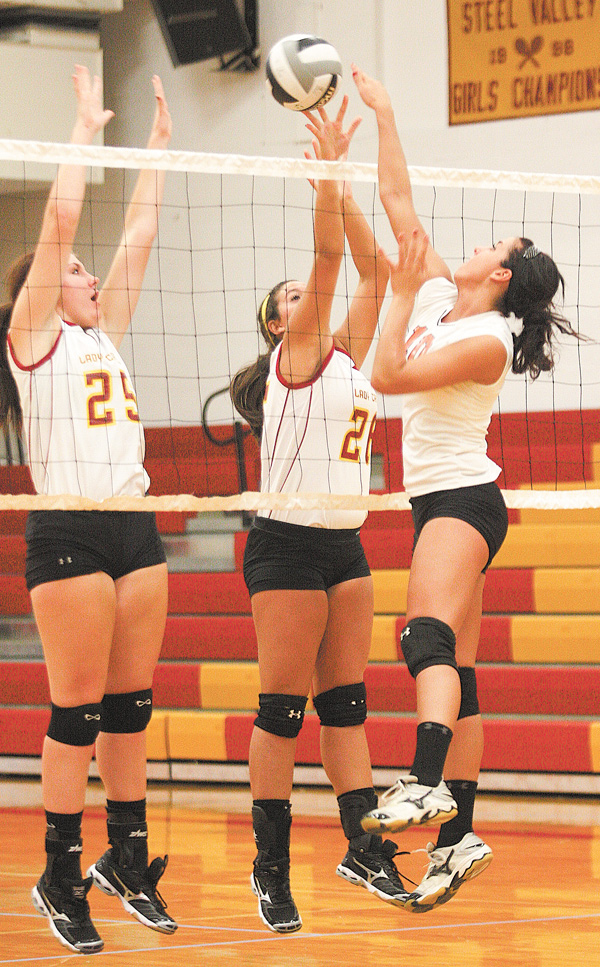 Photo
Howland's Megan Papalas tries to get a shot past Cardinal Mooney's Nichole Webber (25) and Lorena Cancel on Monday in the Cardinals' gym.
By Brandon Judeh
Youngstown
With their backs against the wall, Howland High's volleyball players knew they were going to have to play better in the fifth and deciding match against Cardinal Mooney.
After losing Monday's fourth match 25-15, things looked dim for the Tigers (11-5), but that's when Howland coach Amanda Lingenfelter talked to her team.
"It was an emotional game, but that's what volleyball is," "Lingenfelter said. "I told them to go out and do what we do best and they did."
The result was a Howland victory — 23-25, 25-22, 25-20, 15-25, 15-10.
Howland came out roaring in the fifth match, matching Mooney (10-8) point for point and eventually pulling away to a 15-10 victory.
This was after a horrendous fourth match, which saw the Tigers down 10-0.
"We played together and kept up, rather than remembering how we played in the fourth game, we just stayed together and did our best," Howland senior Megan Papalas said.
Papalas finished with 42 assists, 16 digs and eight points.
The game, which can be best described as an emotional rollercoaster, started out in the Cardinals favor.
Early on, the Tigers dominated. But midway through the match, the Cardinals went on a 9-2 run for 25-23 victory.
"You can't really control the girls emotions out there, especially in a game like this, we have 32 girls in our program and you take the highs and the lows, the good and the bad," Mooney head coach Tony Gorvet said.
Late in the second match, Mooney went on a furious run to knot the game at 22. In danger of falling behind 2-0, Lingenfelter called a key timeout.
"I told the girls to concentrate on making three perfect plays, pass, set, hit and do what we know how to do and you will get right back in it and they did," Lingenfelter said.
Momentum carried over into the third game for Howland, but it didn't come easy.
Mooney kept a small lead throughout, but the Tigers ended the game by scoring eight out of the final nine points to steal the third match and take a 2-1 lead before Mooney dominated the fourth set.
Howland senior Erika Lapmardo says that her team stayed focused and was able to come in to a hostile environment and knock off a tough Mooney team.
"It felt amazing, being down like that and coming back and winning is a great accomplishment, especially being able to do so on their home court," Lapmardo said.
Lapmardo led the way for the Tigers with 18 kills, 34 digs and 10 points. Teammates Olivia Goodman made 10 blocks, and Kelly Dungan had eight blocks and two aces.
For Mooney, Nichole Webber and McKenzie Reese combined for 22 kills while Lauren Lottier chipped in with 15 digs and Angela Penza had eight blocks.